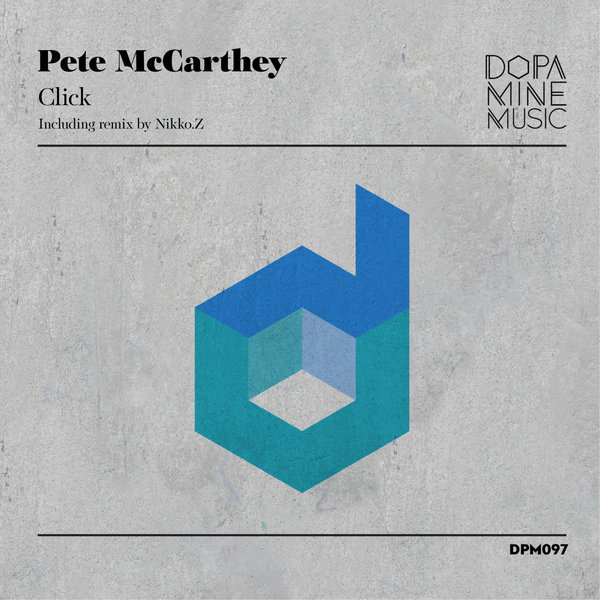 Click
Original Mix

(7:15)
Click
Nikko.Z Remix

(6:52)
The latest release from NIkko.Z's Dopamine Music welcomes Pete McCarthey back to the label for a new single. Greek artist Panagiotis Tassis aka Pete McCarthey hails from Athens and made his debut on Dopamine Music in March of 2013 with 'What Can I Say'. He's called the Greek imprint home ever since, appearing six additional times, with the most recent being November of 2016. Also laying claim to releases on Cocoon, ICONYC and Krafted, Pete now makes a long overdue return to Dopamine with 'Click' alongside a remix from label boss Nikko.Z.

The amalgamation of progressive house and techno has continued to be an inspired trend and Pete explores that cross pollination on 'Click'. It's warm, chugging low end, esoteric rhythms and organic percussion sit in a perfect sonic marriage. Sizzling effects and hopeful overlays advance the storyboard, filling in the framework for a hugely energetic first act. As momentum grows, waning tones add a unique tension, before eventually melting down into the main break. Not without emotive moments, the centrepiece features a poignant tonal theme, further elevating the narrative as waves of percussion usher in a driving finale.

The release concludes with Dopamine Music boss Nikko.Z providing the lone interpretation of 'Click'. The Greek artist has been quiet this year with his last production coming in September of 2018 on Univak Records. Long a favourite of Hernan Cattaneo, Nikko also boasts releases on Movement Recordings, Or Two Strangers and Sudbeat. Now presenting his first production of 2019, the Athens resident delivers a stunning rendition of 'Click' to close the release out. Opting for a deeper more melodic approach has worked wonders and sits as a perfect complement to the original. Anchored by a fluid low end and detailed percussion, Nikko enhances the soulful wails while keeping rhythm and drive at a premium. Pushing the narrative further into emotive territory is a timeless break, bursting with texture and colour, before a classy drop transfers energy into a haunting final act. A gorgeous remix from Nikko which caps off a welcome return for both himself and Pete McCarthey. Highly recommended.

Words by Release Promo.
Artwork by Dimitrios Papanikos.
Mastered by Pete McCarthey and Nick Zafiriadis.
Distributed by Proton.