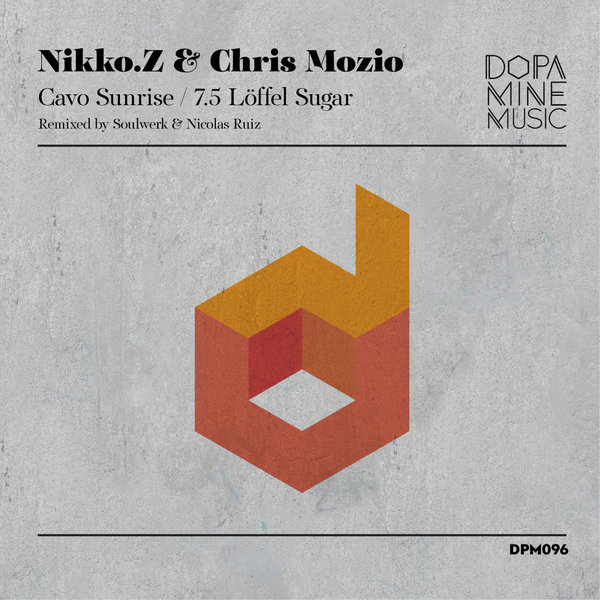 The latest release from Dopamine Music finds the label showcasing new interpretations of Nikko.Z and Chris Mozio's 'Cavo Sunrise' EP. Originally released in December of 2010 courtesy of Lowbit Records, it found the Greek duo crafting two melodic creations that earned the praise of Hernan Cattaneo. Now nearly a decade later, Dopamine invites label artists Soulwerk and Nicolas Ruiz to reinvent the tracks for 2019.

Fresh off the release of his 'The Calling' EP, Soulwerk returns to Dopamine Music, providing the lone interpretation of 'Cavo Sunrise'. Putting anticipation on high, a bed of warm beats and hip swinging rhythms set the stage for a full, driving groove. Spacey effects add an astral charm as the first act unfolds, while percussive flurries, dynamic hits and layers of tonal tension continue to elevate the mood. Fragmented arps and acid hooks carry nicely into the second act, before a wonky lead dominates the break as the groove returns for a powerful finale.

Rounding out the release is Nicolas Ruiz who provides the lone interpretation of '7.5 Löffel Sugar'. The Argentinean artist has been a mainstay of the Dopamine roster, last appearing with his 'Vision' single from May of this year. Subsequent releases for Beat Boutique and Sprout have been sensational, making for a strong start to 2019. Now continuing to build on that momentum, Nicolas returns to Dopamine Music with a stunning rendition of '7.5 Löffel Sugar'. The ebb and flow of its energy is immediately engaging, as a rolling, full bodied groove, charged rhythms and exotic drums unite in free flowing storyboard. Chilling melodies resonate at the core of the piece, building slowly with a charismatic charm, before a well crafted break sparks a powerful drop and seductive finale. A gorgeous interpretation from Nicolas, rounding out a superb remix edition for Nikko.Z's Dopamine Music. Highly recommended.

Words by Release Promo.
Artwork by Dimitrios Papanikos.
Mastered by Nick Zafiriadis.
Distributed by Proton.