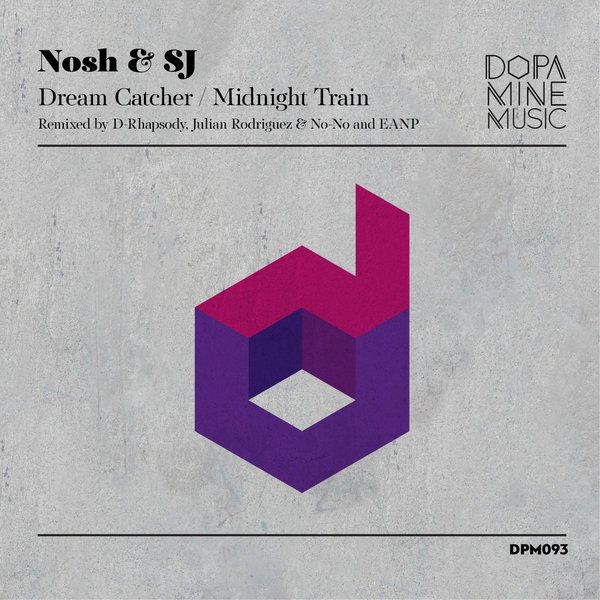 The latest release from Nikko.Z's Dopamine Music finds the label presenting new interpretations of Nosh and SJ's 'Midnight Train/Dream Catcher'. Released in June of 2018 to much acclaim it marked the Indian's duo's debut on the Greek imprint. With the spring club season drawing closer Dopamine now invites D-Rhapsody, Julian Rodriguez and No-No and EANP to re-interpret the tracks.

The first interpretation of 'Dream Catcher' is provided by D-Rhapsody who return to the label for their fourth appearance. Since their debut in December of 2017 the Italian duo has been a core part of Dopamine Music along with Soundteller Records and Stellar Fountain. Always creative remixers the Italian duo take 'Dream Catcher' into trippy, progressive minded territory with great results. The rolling cadence from the original is well maintained and the result is something which is not only incredibly groovy but fluid and hypnotic as well. Growling synths add depth and character as the narrative evolves, before emotive chord changes and astral sonics deliver a gorgeous moment during the main break.

The second and final interpretation of 'Dream Catcher' is provided by Julian Rodriguez and No-No. The sometime studio partners are fresh off an EP for Deersky's Soundteller Records and also lay claim to releases on Stellar Fountain's Astrowave and Crop Circle. Now making their collaborative debut on Dopamine the duo provide a stunning take on 'Dream Catcher'. The pure progressive sentiments are strong with this one as a swing heavy groove, ghostly overlays and a warm atmospheric glow quickly encases the framework. Reprocessed, the synth elements offer more of an ethereal feel, while the main break reaches deeper into the emotional core of piece.

The release concludes with EANP returning to the label and providing the lone interpretation of 'Midnight Train'. Having worked together for several years it wasn't until 2018 that Ezequiel Anile and Nicolas Petracca decided to coin the EANP alias for their collaborative efforts. The moniker has taken off and seen them earn consistent support from Hernan Cattaneo and Nick Warren along with releases on ICONYC Noir, Just Movement, Magnitude Recordings, Mirabilis Records and Movement Recordings. Now landing back on Dopamine the talented duo deliver a dark and driving take on 'Midnight Train'. The infectious energy which made the original so compelling translates quite well here, albeit in darker, more progressive minded context. Airy vocal fragments and waves of fiery percussion drift over a robust groove for what results in amazing hypnotic drive. A plucky lead theme highlights the main break while frayed sonics deliver moments of meditative bliss, perfectly setting up a storming finale. A massive interpretation from EANP which rounds out a superb remix edition for Nosh and SJ's 'Midnight Train/Dream Catcher'. Don't miss it.

Words by Release Promo.
Artwork by Dimitrios Papanikos.
Mastered by Nick Zafiriadis.
Distributed by Proton.