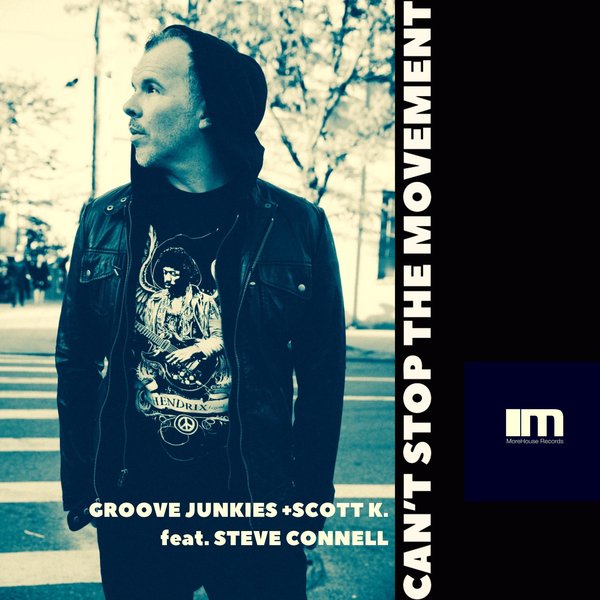 Early Support from David Morales, Mr. V, Natasha Diggs, Marques Wyatt, Neil Pierce, Groove Assassin, Alan King, Wayne Williams, DJ Pope, Kenny Summit, Deep Soul Syndicate, Jask, Ian Friday, Mr. Mike, Helen Ting and many more...

Groove Junkies & Scott K. ('Higher,' 'Done Me Wrong,' 'AfrikAcid') team up once again on the hypnotic Deep House gem 'Can't Stop The Movement.' This time they elicit the help of Def Poet and transformational artist Steve Connell. From the opening beat 'Can't Stop' commands your attention. There is a familiarity about it, yet the experience feels brand new. The end result is a blissed out journey filled with unexpected atmospheric twists and turns along the way. Steve's riveting delivery and message, coupled w/ the fellas percussive laden, no nonsense groove & clever usage of samples, give 'Can't Stop The Movement' a timeless vibe that is not weighted by today's trends. Steve knows ideas that change the world require a voice that will make it listen. He has created just that with a compelling performance filled with dynamism, humor, and unbridled energy.

Steve's stellar work on Russell Simmons Def Poetry Jam on HBO is just one of many high profile appearances in his vast bio. His distinct and engaging approach to storytelling and multi-media performances makes him a sought after speaker for marquee events which have included performances for President Obama and Oprah Winfrey, world-class conferences for Life Itself, X-Prize, and the American Cancer Society, and festivals like Sundance and the Amnesty International Human Rights Arts Festival.

As a National Poetry Champion and accomplished playwright, Steve's recent work IMPERFECT premiered with Lincoln Center's 2021 Restart Stages Series.

Steve's work has been seen on ABC, MSNBC, HBO and MTV and he's entertained corporate giants such as Sony/Universal, Pioneer, Gap Inc. and Nike.

We are honored to have Steve on board and part of the extended MoHo fam!

CREDITS
Written by Steve Connell, Evan Landes & Scott K.
Produced by Evan Landes & Scott K. for Groove Junkies Productions
Spoken Word performed by Steve Connell
(c) & (p) 2022 MoreHouse Records Inc.