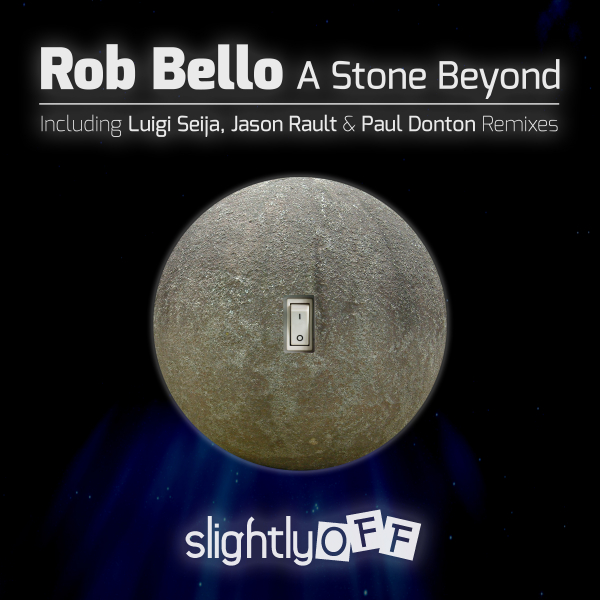 Next on Slightly OFF we welcome Rob Bello with his debut release A Stone Beyond. Rob's gentle injection of epic synths and experienced guitar licks invites a full spectrum of open- minded music lovers to journey across a vast region of theoretical frequency. Lifting spirits and inspiring hope, even in the darkest of days. Rob has developed his sound overtime and has become frequent regular dj in the Tampa Bay Area. We are pleased with the top- notch production. A Stone Beyond is very deep track with beautiful sounds and a nasty bassline, and yes those are his vocals and his guitar licks. We recently asked Rob what's the meaning behind this track - "I have myself, I have the stones to not be like everyone else. The courage to be different, while others find it difficult to achieve artistic expression beyond their own desires to be popular. I am free while they have rules to follow." – Rob Bello

First on remix duties is co- founder Luigi Seija. He takes A Stone Beyond to the dance floor. Luigi adds a growling bassline that penetrates your chest with a southing synth that drift into the sky. Luigi's focus is pushing Slightly OFF to the next level and keeping up with his release schedule in 2020 which include working with Orlando Voorn, Toka, Ollie Drummond, Brian Busto, Paul Donton, & Rob Pearson. Be on the lookout as Luigi's upcoming releases on Bombis Records & his own imprint Slightly OFF.

We welcome Jason Rault to the Slightly OFF family!!! Jason does not disappoint with a techno version of A Stone Beyond. With an appreciative ear for many genres and styles, Jason gravitates towards tracks with strong moody elements, whether a smooth jazzy inspired riff or a hypnotic groovy bass line. Currently residing in the hedonistic playground that is Miami, Jason is recognized amongst Miami's most promising DJ/producers, regularly performing in electronic music hubs within the US, South America, and Europe. Born in Mauritius, a charming, culturally diverse island off the coast of Southern Africa, Jason Rault discovered electronic music through Sasha's 2004 album, Involver.

Slightly OFF welcomes a guest appearance from Paul Donton who delivers a tech house masterpiece with his version. For those that do not know him, Paul works regularly with Rob Pearson and various projects for several labels. Recent releases on Cue Music / Household / Click Therapy / Slightly Off as well as Bombis / Evasive / Drugsex with massive DJ support. Paul has been mainly busy making and producing music. With Bombis Records alone, he's working with Dave Angel / Clive Henry / Orlando Voorn / Alexi Delano / Funk D Void to name only a few in the pipeline. Paul recently teamed up with Orlando Voorn to relaunch Triangle Records label and have also produced an original album together. They both regularly collaborate and have forthcoming projects on albums such as Divine / Voorn Kollektiv / Soul Stage showcasing various styles.