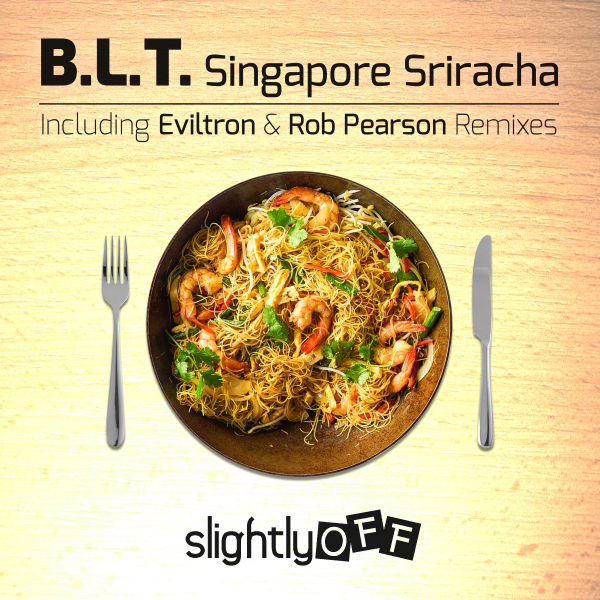 Here we go, time to celebrate 4 years of Slightly OFF! Let's celebrate our existence with some style shall we?

From none other than the co-founders of the label, Luigi Seija & Foster team up again as B.L.T. Here the duo bring nothing more than their perfected bumpy house sound from the roots of Tampa Bay. Get ready, you're in for a ride alright! Funky Tech with a groovy baseline just to get you shaking your thang. You won't be disappointed and know why you're so into the Slightly OFF sound. Then we look who they invite on board and join the party.

Up Next, Eviltron makes an appearance. Under this disguise, Eviltron has been creating deep electronic music with various mood swings ranging from the finest minimal sounds to the orientations of techno. As you'd expect, Eviltron goes really deep with his interpretation of Singapore Sriracha. Eviltron has been busy as of late with his own imprint Eviltron Music, Bombis Records, Family Grooves, and his second appearance on Slightly OFF.

Then we welcome back Rob Pearson. Rob delivers a tech house dance floor smasher, we wouldn't expect anything less from Rob's 20 years of experience knocking out banger after banger. Rob spins many plates, whether his own mastering company, his 2 labels Evasive Records & Drugsex Recordings or works with his production partner Paul Donton. He has a lot to contend with. Most recently with production partner in crime Paul Donton, they have been making some serious noise with their 2nd collaboration Album on Bombis Records Walking Monsters.

So there we are, another extremely exciting package setting the tone for the future.
We think it is more than the perfect way to showcase and bring you a release to celebrate 4 years. Do you agree?

We want to take a moment and thank all of our artists that have supported the label. Without your music, passion, productions, and care Slightly OFF would have never happened: Brian Busto, Hair Band Drop-Out, Jesse Scotto, Lo, Souki, Joint Custody, Chad Neiro, Dead Space, Chris Mitchell, Emiliano Martini, NDX Music, Bob Skies, Rob Pearson, Jay Dynan, Carter Walker, Dutchie, Orlando Voorn, Paul Donton, Protocluster, Ollie Drummond, Santino Bontempo, Android 10, Darce, Jake Beautyman, Jason Selden, Leopard Lust, Mohican & Falcon., Rob Bello, Mr. Stitch, Jason Rault, The Wheel Man, Dropz, Doctor Boom, Eviltron, & Toka.

Finally…….
A special thank you to all our fans who have supported us, we look forward to the future.