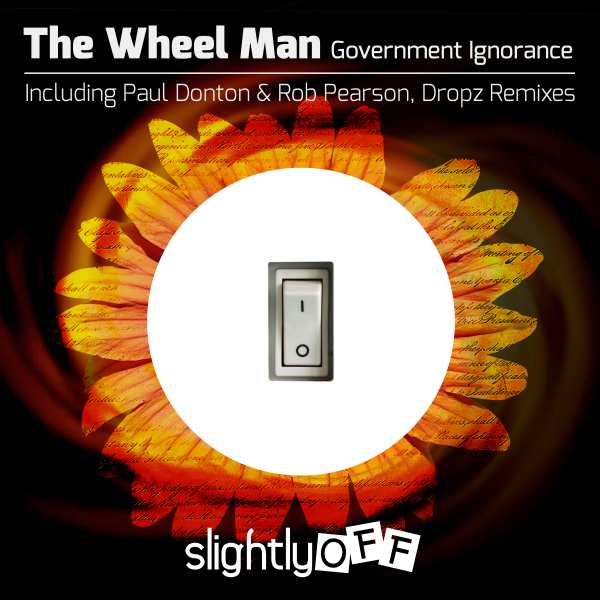 Welcome The Wheel Man to Slightly OFF!!! The Wheel Man takes a no prisoners approach with his first release on the label called "Government Ignorance". He brings hard driving industrial kick drums, beautiful techno stabs with a driving bassline. Hailing from Croatia, The Wheel Man keeps pretty busy with his own imprints Zwilling & Forward Education; also releasing on Bosh Recordings, Stark Futures Recordings, and Household Digital. With the big boom of the rave culture in the early 90's, which at the time had affected the German music scene, his interest in electronic music subsequently increased. As time passed, The Wheel Man was influenced from the Deep & Tech House scene. We are very fortunate to add a seasoned producer to the Slightly OFF roster.
On remix duties, Paul Donton & Rob Pearson raise the bar on this mix. The duo doesn't disappoint taking us to another dimension with their dark interpretation. Paul & Rob have been on tear with countless releases since the beginning of 2018. They have more than three decades of experience when it comes to production, running their own labels, and djing. Both being influenced by the evolution of the early house and techno scenes, they came together through their mutual appreciation of good underground music. Individually they have played at the most prestigious underground parties, venues and events throughout the UK, Europe, and all over the globe. Paul and Rob have made lasting impressions with their releases on Slightly OFF. Paul -To the Unknown; his alias Eviltron - La Fiesta En La Cabeza, & Warped. Rob – Electronic Music and Clickbait Conspiracy. Expect big things from them on the label with future releases.
We are very excited announce brand new artist to the label DROPZ. Richard Michael Soto aka Dropz is the owner of Graff Traxx, co-owner of Household Digital, and has been in the house music scene for over 20 years as a fan, producer and DJ. He approaches his music through this triangular lens, giving him the unique perspective of knowing how it all comes together on the dancefloor, down to the last side shuffle. With his muscular brand of tech house, this badass DJ and BBQ master certainly knows how to please the senses and get your bodies jacking. Dropz delivers a masterpiece to complete a fantastic package. This is for the heads on the dance floor like the dark and dirty. Dropz brings a certain edge to his production and keeps you grooving thru the whole track. Expect Dropz in the near future with his own production on Slightly OFF.