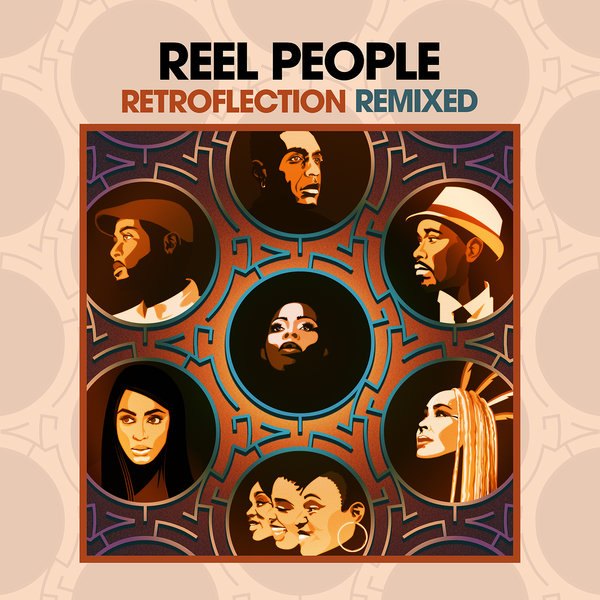 The release last autumn of Reel People's first full studio album in 10 years was, it's fair to say, a moment. Retroflection stylishly recreated soul, disco and boogie classics behind the collective's formation nearly 20 years ago and exposed its rarefied DNA like never before. Now band leader Oli Lazarus widens the collective, inviting the world's finest producers and remixers to add their funky splices to the Retroflection blueprint. Retroflection Remixed, featuring Mousse T., Osunlade, DJ Spinna, John Morales, Atjazz, Terry Hunter, Sebb Junior, Scott Diaz, Da Brownie, Tall Black Guy, Matt Cooper's OUTSIDE, BusCrates and Art Of Tones, is a majestic rebooting of the soulful flow that swept us away in 2018.

Art Of Tones get's his sparkly mitts on Don't Stop The Music, swaggering synth 'n' bass riffs further underlining Angie Stone's classy strut through Yarbrough & People's 1980 hit, whilst Buscrates - true to the name of his remix - pumps irresistible funk bounce into I'm In Love, a truly lowdown re-skinning of Reel People's Evelyn 'Champagne' King tribute where Navasha Daya's vocal sounds sassier than ever.

Osunlade eases us in with an elegant re-interpretation of Reel People's Pleasure cover Joyous, deep throbs of electronica and rippling percussion carrying loops of the vocal and that iconic sax solo to stunning new heights - or depths. Similarly, Atjazz dims the lights and intensifies the mood for his take on Twilight. Where Reel People played impressively close to Maze's original, Atjazz treads to shuffling jazz drums, double-bass and piano. The build of parts is spine-tingling stuff. Matt Cooper and his outstanding OUTSIDE project also take on the mantle of Joyous, and serve us a full fat disco jazz funk odyssey.

There are a number of uptempo treats too. Take Sebb Junior's snappy piano-house routine for the Mica Paris-fronted I Want To Thank You - a sparkling turbo-charge to Alicia Myers' early Eighties gospel-R&B vibe - or NYC mix legend John Morales' ecstatic nine-minute mirrorball twirl of Geraldine Hunt-anthem Can't Fake The Feeling complete with epic drum and vocal (Daya once again) breakdowns. Respected UK house DJ-producer Scott Diaz gives the Sharlene Hector-led cover of Side Effect's Always There greater guitar-licked urgency but without compromise to the song's soulful poise and power, and revered Chicago veteran Terry Hunter is a match made in heaven for Tony Momrelle, who soars through the former's soulfully-charged remix of Buttercup (Carl Anderson's mid-Eighties, Stevie Wonder-penned gem) with all of its funky drums, b-line twists and warm musical arrangements. German maestro Mousse T. hands us a nostalgic rework of Teena Marie's I Need Your Lovin' featuring the female powerhouses Vulu Malinga, LaDonna Harley-Peters and Sharlene Hector.

Elsewhere, South African talent Da Brownie dresses Reel People's peppy, Omar-fronted update of Skipworth & Turner treasure Thinking About Your Love in sharp, finely-detailed deep dance threads, and Detroit star Tall Black Guy (TBG) sprinkles considerable amounts of summer samba magic over Momrelle's other Retroflection outing Can We Pretend - a stunning re-awakening of the Bill Withers and Jose Feliciano collabo for the second time in mere months. There's room yet for DJ Spinna to expand the reaches of Keep It Up (Anthony David's luscious rendition of Milton Wright's deep-soul bomb) with another of his transcendental space-funk remixes. Mind-blowing.

Following acclaimed releases Second Guess and Seven Ways To Wonder, as well as compilation work including Golden Lady, last year's Reel People release Retroflection reflected the highest possible level of soulful passion and craftsmanship. With Retroflection Remixed, the collective - overseen by experienced studio-hands Lazarus, Mike Patto, Matt Cooper (of Incognito fame) and Toni Economides - swells its talented cast and finds dynamic new ways to connect past with future. Here is a harmony of impeccably-curated Reel People reboots sure to capture hearts, minds and feet all over again.