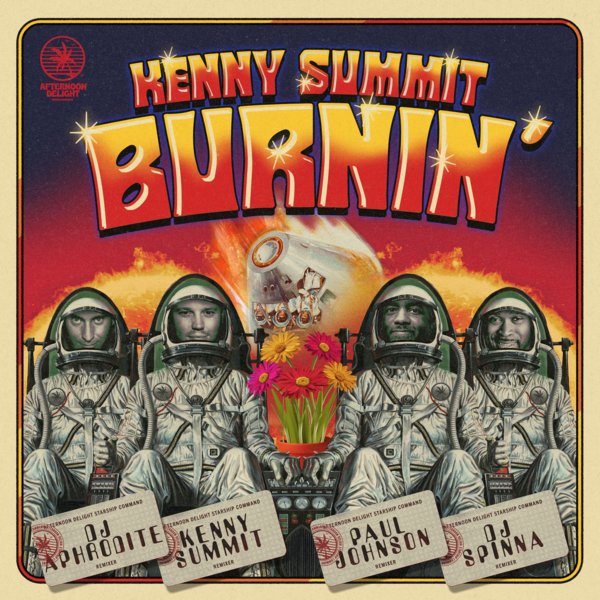 30 years as a full-time touring nightclub DJ sounds like one hell of a career, and for Kenny Summit it's as much of a milestone as it is a turning point. "I've been blessed to have been able to share the stage with so many of my heroes; David Byrne, Stevie Wonder, Chaka Khan, George Michael, Kylie Minogue, Prince, some huge artists have taken me on the road as 'their DJ' over the years. I've been incredibly lucky, fortunate to be standing next to, and rock stages with, some real superstars. Watching these great performers work crowds into a frenzy with their vocal talents greatly influenced me. But after doing this for so long, after spinning dubs for artists who jump on stage and brighten everyone's day by gracing the microphone, I feel like I've learned enough about being a showman, about being the one holding the mic and commanding the crowd that I think it's time for me to do the same."
"Burnin" is a song written, produced, and performed by Kenny Summit that speaks on a desire that's been burning inside of him for 3 decades. "I caught the fever for house in 1990 and by 1992 I was booked for my first DJ gig at New Jersey's famed Zanzibar nightclub where house legend Tony Humphries held court on a weekly basis. Something changed that night, a fire started and it's been building, growing inside of me and now it's time to put paper to pen and write my own songs."
Clearly influenced by the artists Kenny's worked and played with over the years, Burnin is a culmination of one man's journey through dance music; from the Nile Rogers-ish 70s guitar riff to the whining Steely Dan-like keys, to the lush strings and synth-pop stabs that would make Moroder blush, the track itself is masterfully produced and punctuated with Kenny's unique uplifting vocals, sang in a manner as if David Byrne and Boz Scaggs were put together and yet still very uniquely Kenny Summit.
Three decades is a long time to be in any industry and Kenny has made some influential friends over the years. None more beloved than the late great Paul Johnson. Chicago's shining star, Paul was unfortunately taken from us by the pandemic. "I sang Burnin to Paul over a facetime call and he started making a new beat for it immediately. He was very supportive of my career, always looking out for me, always sending me his unreleased jams, and pushing me to get more creative in my own approach to production. When he heard me singing Burning on that call he was screaming 'That's what I'm talkin' bout my dude! That's YOU, that's the real Kenny Summit, the showmen, not this DJ bullshit!'. At times it was like he wanted me to live my dream of becoming a singer more than I did. lol. To have someone like Paul as a cheerleader in my life was magical. It's hard to imagine this is the last thing we were able to work on together. His remix is dark, very much an after house vibe, but still got that trademark Paul Johnson sound."
You can't toss around the word LEGEND lightly, but there is no other word to describe Drum & Bass icon DJ Aphrodite. Kenny's infatuation with Drum & Bass originated at NYC's Wetland's venue in the early 90s where he would regularly attend the famed Koncrete Jungle D&B parties, which is also where his passion for turntablism began, "I'd show up when the doors opened and wouldn't leave until the very last record was played. My goal was to become the best turntablist I could possibly be and at that time the D&B DJs in NYC were the ones really carrying that torch. The D&B tempo lends itself to some serious creativity if you're a halfway decent turntablist you can really shine during a D&B set, so that made for some fantastic trainspotting. It's also an incredibly hard genre to produce and I was collecting as much D&B vinyl as I was house back then. When I got that Aphrodite vs Jungle Brothers promo back in 97', I got goosebumps, I still get them when I play that record. Aphrodite really created his own unique sound within his genre and that is something every producer should attain to accomplish in my opinion." DJ Aphrodite applies his trademark sound to Burnin with a stellar remix the D&B community has been patiently waiting over 3 years for.
Brooklyn's DJ Spinna needs no introduction, his discography speaks for itself, not to mention his WonderFul parties hosted by the man himself, Stevie Wonder. Spinna has been holding court in DJ booths around the globe for 4 decades and continues to fascinate DJs and audiences alike with his refined abilities as a turntablist as well as his prowess as a producer. Friends from way back, Kenny invited Spinna to work on a remix of Burnin, "I called Spinna, played him the record and he said 'this needs a dope DUB! Leave it to me, imma hook you up bruh!' a month later he sent me his Discoelectric Dub which I've been playin in every set since."
Burnin is the 2nd coming of Kenny Summit; backed by some of the most incredible producers ever, this gawjus release is set to be released on the world in mid 2022.