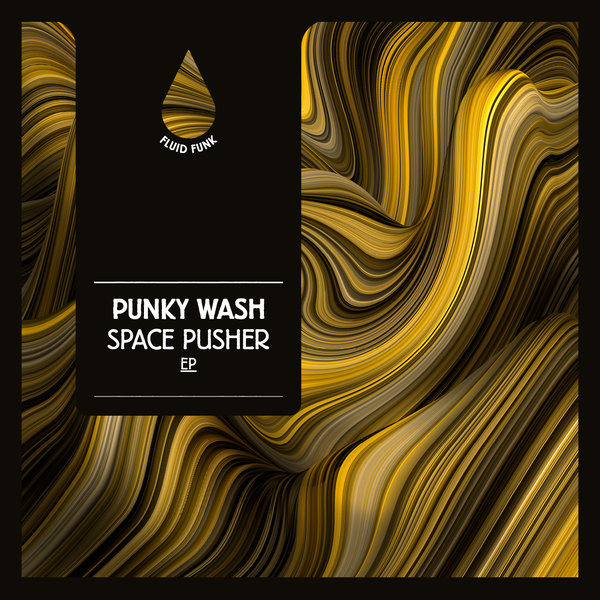 Next up on Fluid Funk, a new name you may have never heard of yet but who's definitely on the cusp of big tings: Punky Wash. Hailing from the sunny south of France, Punky Wash blows the fresh winds of soul and funk across the dance floor, easing dancers in an idyllic scenario brushed with large dashes of colour and balmy, jacuzzi-warm grooves that scream fun and pool party. His anticipated debut iteration for Fluid Funk, "Space Pusher EP", does just that through five cuts larded with generous amounts of slap bass, cosmic-indebted synth waves and a mischievous Afro-disco-hop swagger Gilles Peterson wouldn't disown.

First in line, the title-track "Space Pusher" blends in skittish drum onslaughts with shades of cosmo-balearic jazz to exhilarating fruition; retro laser blasters a la Cerrone colliding with hi-NRG percussions, processed Rhodes stabs out a lush vintage jam and Habanos-scented guitar riffs exuding flavours of summer luvin' and coastal carefreeness throughout. "Let's Green Flash Dive" goes for a dip into more shuffling, soulful house territories but with a trademark Latin spin to it, the slap bass playing a key role here as muted trumpets and Cuban bongos summon vivid visions of seaside chill and boogie down with friends.

Full in on the rattling jazz vibe, like a distant cousin to Art Blakey's nervous drumming hoodoo, "No Can Do" is bathed in soothing synth undulations and 60s flutes a la Lalo Schifrin meets St Germain. Sprinkle with a hint of soulful vox stabs and untamed congas echoing in the background, and there's our contender for summer anthem of 2022. "Up The Jam" is a straight out jazzy affair, pulling an outstanding flux linkage of hot-tempered double bass, lithe piano and again, flutes. "Uptown Funky Music" rounds off Punky Wash's maiden effort on an electronically driven mix of brassy funk and syncopated disco that shall rejoice all lovers of sun-drenched house and intrepid Mediterranean via Caribbean blends.