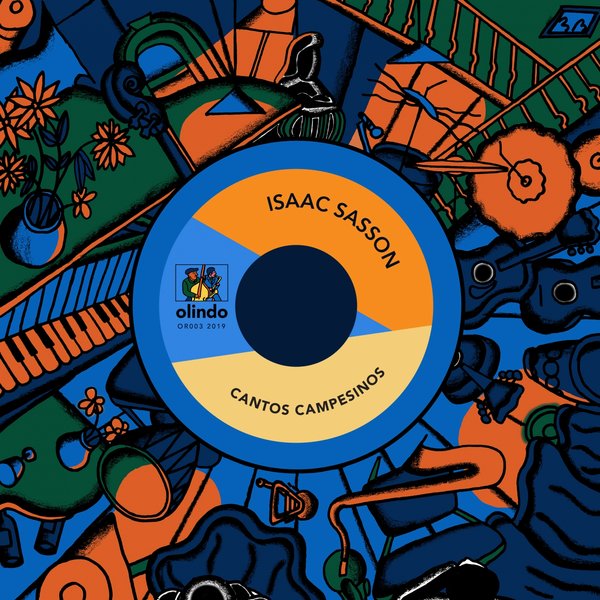 Olindo present their 1st release of 2019 and the 3rd in a Venezuelan trilogy of singles. Featuring 2 original compositions by Venezuelan multi-instrumentalist and composer Isaac Sasson with a remix on the flipside by London producer & drummer Hector Plimmer (Albert's Favourites).

"Paseo en un sueño" is a short composition that reflects a dream that begins in the village of El Hatillo and ends at dawn in the hills of Caicaguana, its main theme is a beautiful flute melody played by Tomasito Garcia.

As the instruments and vocals fade away, "Canción para mi familia, Venezuela" begins, with Isaac singing "esta melodia es especial para mi mamá, dedicada a mis abuelos, a mis hermanos y a mi papá". This song is a sort of mantra or prayer dedicated to Venezuela and Isaac's family and friends; its spiraling guitar riff and various percussion instruments quickly descending towards a chaotic state of bliss.

Hector Plimmer's remix reassembles elements from another Sasson original, "Cantos Campesinos", focusing on a particular vocal motif. Hector retunes the rhythm to his purposes, building tension and borrowing a bell sound to raise it even further, before releasing a skittering drum pattern with plenty of swing and a heavy dose of low end. Before the song ends, Hector goes deeper, adding sensual synth chords and finally a flute-like synth solo to complete this musical trip that is surely destined to soundtrack a few hazy evenings this summer.

The music on this EP has been previously self-released by Isaac on his album "Memorias del canto campesino", but appears here for the first time on vinyl.