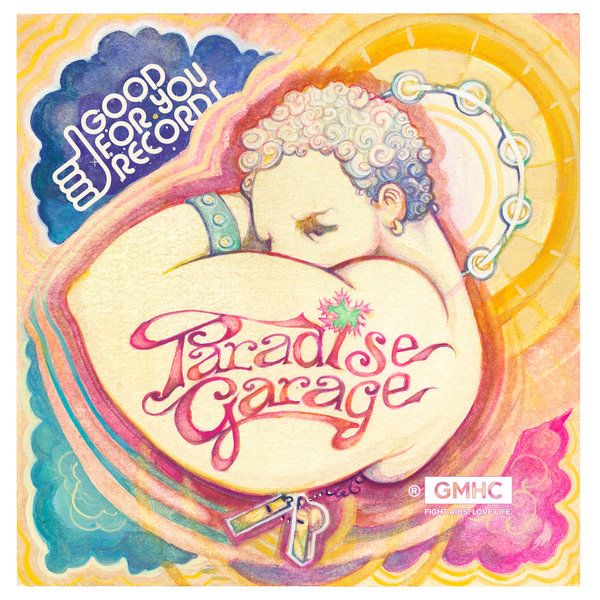 Paradise Garage : Inspirations is nothing like any of the previously-released Paradise Garage comps, in that the music on this release is not from the Garage era. As the title suggests, Paradise Garage : Inspirations is a collection of music made by producers who had some kind of life changing experience on the hallowed ground at the Garage, or, they had some kind of relationship with Larry Levan which inspired them to follow their passion for music. The Inspirations compilation features the last ever Frankie Knuckles production, a project Frankie and Kenny Summit worked on with Eric Kupper, a remix of 'You'll Never Find Another Love Like Mine' by the legendary Lou Rawls. The comp also contains unreleased remixes of iconic club tracks like Loves Last Episode's remix of Deee-Lite's 'Power Of Love', and seminole club classics like the Masters At Work remix of Todd Terry's anthem 'Sume Sigh Say' and Francois K's Time & Space. Aside from Frankie Knuckles, Grammy Winning Producers Louie Vega (pka MAW) and David Morales also offer their super producer styles to this great body of work. Producer Eric Kupper is present here, having mixed 2 singles that won the Dance Record of the Year Grammy and recently celebrating his 113th Billboard Club #1 Single. The Paradise Garage ushered in a new era of dance music, and this compilation pays tribute to those who've helped carry the torch started by Mel Cheren, Larry Levan and all those affiliated with the Garage. Topping this all off is the masterpiece cover art designed by Alexander Juhasz, the artist behind the award winning films The Little Prince and The Babadook.

We are honored to present to you PARADISE GARAGE : INSPIRATIONS, a fundraising effort for GMHC. Enjoy the music that much more knowing you're helping an honorable cause...

1. Lou Rawls - You'll Never Find Another Love Like Mine (Kenny Summit, Frankie Knuckles & Eric Kupper's Unreleased Mix)
Produced, Written by Gamble & Huff
Remix Produced by Kenny Summit, Frankie Knuckles & Eric Kupper
(c) 1976 Philadelphia International Records / CBS Records
Remix released on Good For You Records 2018

2. Deee-Lite - Power Of Love (Loves Last Episode Beach Mix)
Performed by Deee-Lite
(P) 2018 Elektra Entertainment for the United States and WEA International Inc. for the world outside of the United States.
Produced Under License From Rhino Entertainment Company, a Warner Music Group Company
ISRC: USRH11801382
Remix Produced by Kenny Summit as Loves Last Episode

3. Todd Terry, House of Gypsies - Sume Sigh Sey (MAW Remix)
Producer: Todd Terry
Remixer: MAW (aka Kenny Dope, Louie Vega)
Writer: Todd Terry
(P) Tee's Publishing Inc
(C) 1993 Freeze Records
Digital ISRC: USMKQ1400128

4. Dj Rolando - Jaguar
Produced by DJ Rolando aka The Aztec Mystic
Written by R. Rocha, M. Banks, G. Mitchell

5. Dj Spen - Craze At Midnight
Produced and mixed by DJ Spen for Basement Boys Productions

6. Seven Grand Housing Authority - I Wanna Go Higher (Proper Remix)
Produced by Terrence Parker
Remix Produced by Eric Kupper & Kenny Summit as Proper
(C) 2016 Good For You Records

7. Lenny Fontana & D-Train - Raise Your Hands (David Morales NYC Remix)
David Morales NYC Rmx (07:10) ISRC: QMHDW1300315
Label: Karmic Power Records
%u2117 2015 Karmic Power Publishing (ASCAP), Jungshin INC. (BMI), Sallyson Music (ASCAP)
Written by: Lenny Fontana, James Williams, Hubert Eaves
Produced by: Lenny Fontana
Vocalist: James Williams

8. Dj Spinna Vs Rich Medina - Reality
(C) 2003 Wonderwax Records
Written by V. Williams, R. Medina
Ricardo Grande Music/SESAC
Thally B Music/BMI
Eciruam Music/BMI
Vocals - Rich Medina
Rhodes, Juno 60 and Drum Programming - Dj Spinna
All Other Keyboards - James Hurt
Produced by Dj Spinna for Beyond Real Productions
Mixed by Dj Spinna at the Thingamajig Lab, Brooklyn New York

9. Kenny Summit & Director's Cut Featuring Yasmeen - Loving You
Produced by Eric Kupper, Frankie Knuckles & Kenny Summit
Vocals Performed and Written by Yasmeen
(C) 2014 Good For You Records

10. Sunshine Anderson - Heard It all Before (Gut Feeling Remix)
Performed by Sunshine Anderson
(P) 2018 Atlantic Recording Corp.
Produced Under License From Rhino Entertainment Company, a Warner Music Group Company
ISRC: USRH11800559

11. Mark Farina & Homero Espinosa - Work.Groove
(c) 2016 Moulton Music
Genre: Deep House
ISRC: US5X21505701
Mastered by Colin Russell (DJ Freestyle) for Funkshun Produkshuns!
Written and produced by Mark Farina and Homero Espinosa
Yerba Buana Discos Publishing (ASCAP)

12. Francois K - Time & Space
Produced and mixed by Francois K.
Label: Wave Music
Written by F. Kevorkian and Terry Burrus
Published by Dense Music (ASCAP)/Burrus Music (ASCAP)
(P)(C) 1998 Wave Music

Big Thank You to Alexander Juhasz for the incredible cover art, Jay Spedale for his help getting Sony on board with the Lou Rawls remix, my dear friend Joe Berinato for all the help behind the scenes, Lars Schlichting and Pioneer DJ for their support (VINYL coming out in December thanks to Pioneer), Deron Delgado and the whole team over at Paradise Distribution, and a special thanks to GARAGE HEADS ALL OVER THE WORLD! Don't forget your roots!