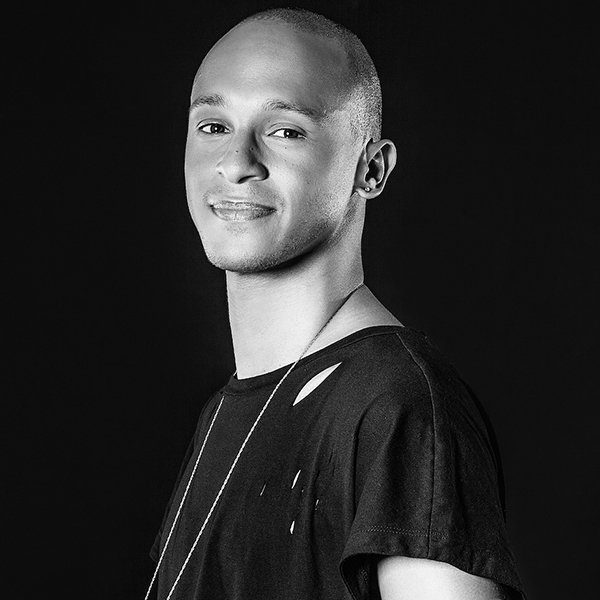 Artist
DJEFF AFROZILA
Tiago Barros, birth name of DJeff Afrozila, was born in a cultural crossroad. If Lisbon, Portugal, was the city that welcomed him into this world in 1984, his roots lie in Africa, on his father's Cape Verde and on his mother's Angola. Growing up in a capital city such as Lisboa meant being exposed to pop music of the 80s: Michael Jackson, Europe, Michael Bolton, Brian Adams, and many others, but living in an African heritage house also meant a close connection to the African roots with bands and musicians such as Kassav, Tabanka Jazz, Livity, Grace Evora, Eduardo Paim, among others. From his older sister came his first contact with electronic music - Robin S, Reel 2 Real, Sizequeen, Daft Punk, Armand Van Helden – and it was an instant and everlasting crush.
At fifteen, by 1999, DJeff starts going to club matinées in a true establishment of Lisbon's club culture, Bauhaus in Estoril. While his friends dance, DJeff observes and learns with the DJ, and from here on there's a love story to be told. His next step was buying a mixer to use with two Discmans; he collects dance music and researches DJs until he finds his DJ reference of all times, Erick Morillo. The New York DJ would be DJeff's ultimate inspiration.
On school parties and in family parties DJeff practised his skills and in 2002 he has the opportunity to learn from a more experienced DJ. In this course DJeff learns how to mix with CD players and with classic turntables. His talents and musicality are so many and shine so bright that he's immediately invited to work as a resident DJ in the club. From then on DJeff started playing as a freelance artist.

In 2008 he finishes his degree in Graphic Arts and moves to Luanda, Angola, where he lives until today. In his new country, his reputation precedes him, and he's invited to present a TV show called Made In Angola. It is also in the Angolan heat that his studio and production work begins, a creative output where DJeff always tries to convey his African roots, and in 2010 his first release – collaboration with DJ Silyvi titled "Canjika" – is released through Pandora Records. His remixes and original tracks gain momentum and serious support from international DJs and in the support list Louie Vega's name stands out.

More tracks are released: "Tambuleno", "Noba", "Malembe" , "Sikama" - NULU Records (Anane Vega /Antonello Coghe), "Nawe"- Soulgasm Music (The Wizard Brian Coxx /Alias Rythm), "Mwini" - Offering Records (Boddhi Satva), "Rollin My Way" - Tribe Records (Zepherin Saint).

By 2011 it was time for DJeff Afrozila to create his own label – Kazukuta Records – a home for his music, for new African talents but also the first electronic music label from Angola. DJeff is both a leader and an inspiration. Kazukuta is growing on the international scene and has a weekly radioshow broadcasted worldwide through www.qhradio.nl every Wednesday from 9 to 10PM.
2013 saw the release of his much-anticipated album – Soldier Ascension – out of which several songs were played and remixed by several artists, and support came from DJs such as Tony Humphries, Boddhi Satva, Mr. V and Rancido, among others. Early 2015 saw Djeff Afrozila's performance at the infamous Boiler Room and the national radio in Portugal, Mega Hits, picking his bimonthly sets for a radioshow. His much acclaimed Boiler Room set can be seen here: https://youtu.be/NduvO0iPLSQ
2017 is the year of "Gratitude", Djeff Afrozila's third artist album released worldwide through his Kazukuta imprint. The long play features 13 tracks, some unreleased such as "Devotion", "Future" or "Gratitude", and others previously released as successful singles, such as "Love Vibration", "So Blessed" and "Reborn".

2021-01-01

2019-08-02

2019-08-02
2018-07-06
2018-03-16

2017-12-29

2017-09-01
2017-08-11
2017-08-11
2017-03-17