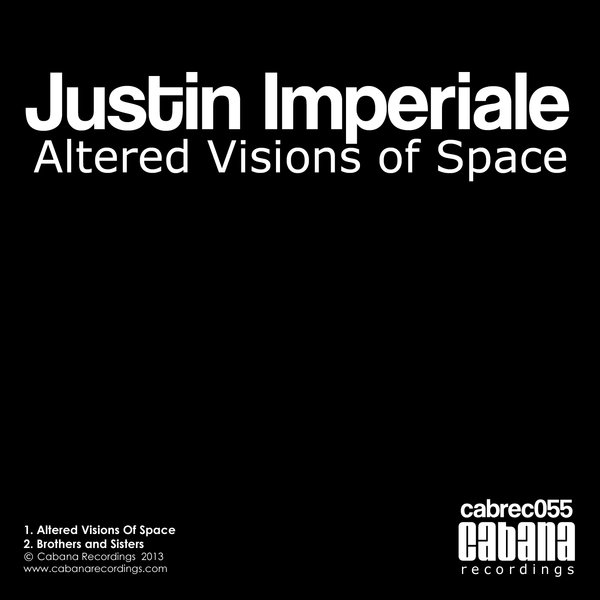 Altered Visions Of Space
Cabana
CAB0055 | 2013-12-27
Justin Imperiale - Altered Visions Of Space

Cabana Recordings label head Justin Imperiale is back on Spirit of House with an incredible two track EP guaranteed to send shivers down your spine. The title track "Altered visions of space" features splendiferous empyreal melodies over a spell binding organic-percussive backdrop, whereas "Brothers and sisters" goes deeper and uses gentle percussion driven rhythms as playground for dreamy keys and sweet guitars. (Mike Fossati-Spirit Of House)

Written & Produced by Justin Imperiale
Cabana Recordings 2013
www.cabanarecordings.com



: : : Feed Back : : :
Casamena - Nice work, will support.
Alan O Malley - 'Brothers and Sisters' has a wicked deep vibe will playlist!!
Abicah Sole - Both are great!!
Vinny Da Vinci - "YES YES!! Beatiful"
Steve Rigamaiden - FIRE!!
Antonio Ocasio - Diggin' this!
Ian Friday - Both tracks rock!
Jose Marquez - Pure galactic deepness on this one. Great release!
Michael Fossati - Beautiful dreamy melodies and gentle rhyhtms are guaranteed to put a spell on you.
Craig Stewart - Very smooth dance music, quality!
K Civ - Altered Visions Of Space takes you on a blissful cosmic ride!
Matt Langrish-Smith - Nice vibes as per usual from the Cabana camp, defo supporting!
Dom Navarra - Once again, Justin shows us how its done, uzooes quality !!!
Dj L (ViaLocal) - Nice tune mate!
Franco Martinelli - Nice EP, smooth and groovy.
Aluku Rebels - Always on point , love the drive in Altered Visions of space. Full support Justin
Mauritzio - Love Brothers & Sister , full support .
Joonya T - Nice & Deep Justin .. Brothers & Sisters Is My Jam !
Antonello Coghe - deep and soul!!
Ed Ground - Loving this! Another great release.