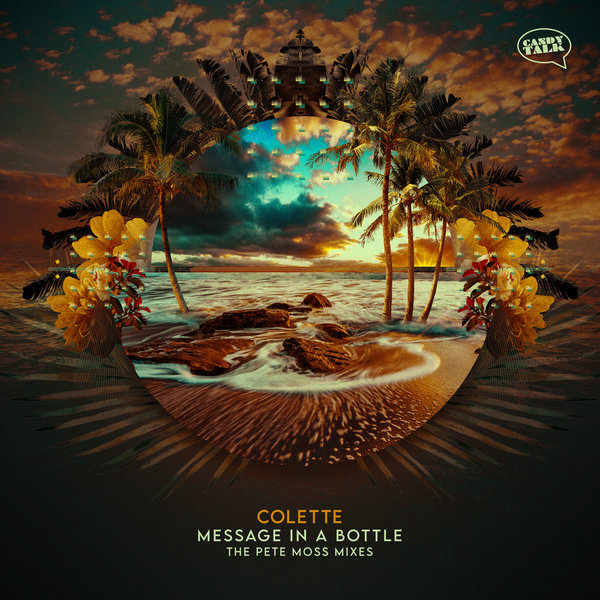 Colette covers the Police classic "Message In A Bottle"
Produced by Pete Moss
Written by Sting
Copyright EMI Blackwood Music Inc. o/b/o Magnetic Publishing Ltd.
Artwork by Steve Berumen

Always one to surprise with her distinctive curation in song selection, label head Colette steps up to the plate with her new single, a dynamite version of "Message In A Bottle" for Candy Talk Record's twenty-sixth release. Standing on their dynamic strengths, she continues with her ongoing collaboration with her friend, the East Coast deep house aficionado, Mr. Pete Moss.

Known for his outer space brand of house music excursions on labels such as Ovum and Dessous, Philadelphia's very own Pete Moss has become a resident artist and fan favorite of Candy Talk Records over the years, and these stunning mixes he delivers on this single of "Message In A Bottle" are all the evidence needed as to why.

A style-twisting artist, Moss explores new sonic territory with his take on this cover by Colette. Taking it all the way out to the outer limits and never coming back, the Pete Moss Main Mix enters its orbit with a driving low frequency filtered synth and kick pattern that features a few repeating vocal echoes before setting up the spacious bed for Colette's first verse. After a return to the looping vocal segments, Moss builds the track's psychedelic energy by progressively notching up the envelope filter on the synth line as he continues to cascade Colette's serene vocals on top of its extraterrestrial vibes.

The Pete Moss Dub sees him in the same orbit as the Pete Moss Main Mix, with its dubbed-out repeating vocal echoes and synth patterns, but replacing the main vocal gestures with effect-drenched segments of one of Colette's verses. A cerebral compliment to the full vocal mix this dub is perfect for those looking for a more mystical musical voyage. A must-have for any programmer, the Pete Moss Instrumental rounds out this single as a great DJ tool for the discerning dance floors with its removal of Colette's verse segments, just leaving the sparingly placed vocal echoes.