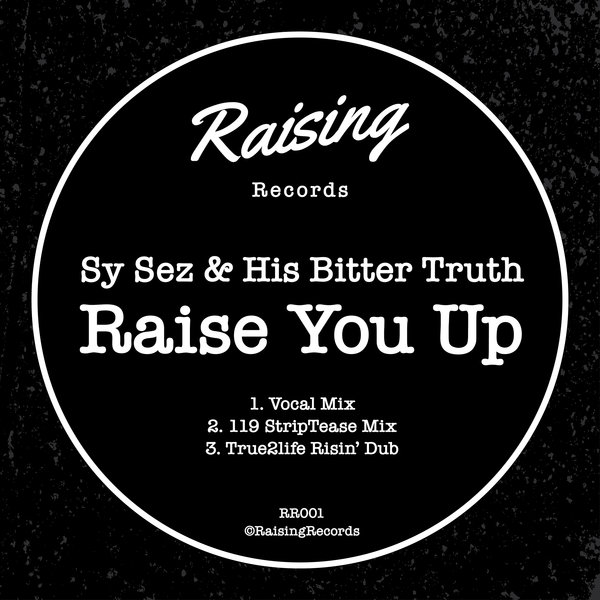 For our premier release label boss Sy Sez steps up to lead the way, teaming up with vocalist supreme His Bitter Truth (who's an integral part of the House Gospel Choir) for their uplifting song RAISE YOU UP.

"...In a time when we feel more disconnected than ever, this song says, I see you, I hear you, I feel you, I got you and I'm here to help. It's a Thank You to those Angels in your life..."

For the main mix Sy serves up Crisp Drums & Emotive Rhodes Chords, filled with a Rolling Bass and Sprinkles of Synth Magic. Finished off perfectly with His Bitter Truth's Epic vocal performance.

On Dub Duty Bristol's True2Life flips the song, serving you a portion of Mid-90s infused contemporary garage-house, garnished in his own unique way! This mix was premiered on Kiss FM exclusively by Sam Divine.

For desert the alternative StripTease mix is a Sub 120 vibe, which sees Sy switch up the Beat pattern, Strip down the musical ingredients and Tease you with trimmings of the Vocal melodies. Served up with a helping hand from guest chef Barrie Hayes (Black Masses & MindState) - who provides additional flavours with Keyboards & Strings!

We hope you enjoy what we cooked up...we will RAISE YOU UP!

@RaisingRecords


CREDITS:

Track Written by: Raffaele Crolla, Simon McGuinness

Song Lyrics written & performed by: His Bitter Truth

Vocal Production: His Bitter Truth & Sy Sez

Fender Rhodes & Synths: Ziggy Funk

Additional Keys: Barrie Hayes

Drums & Percussion: Sy Sez

Additional Percussion: Wayne Campbell aka Wacfoo

Produced & Arranged by: Sy Sez

Mixed by Clinton McCreery @ Bambu Studios #ClintonMixedThis

Mastered at Earthworks Studio by Matthew Bandy.

Published by: 23rd Precinct Music & Copyright Control

*Remix Production & Music by Richard Pring (True2Life)
Mastered by Stuart Kettridge @ South East Studios.