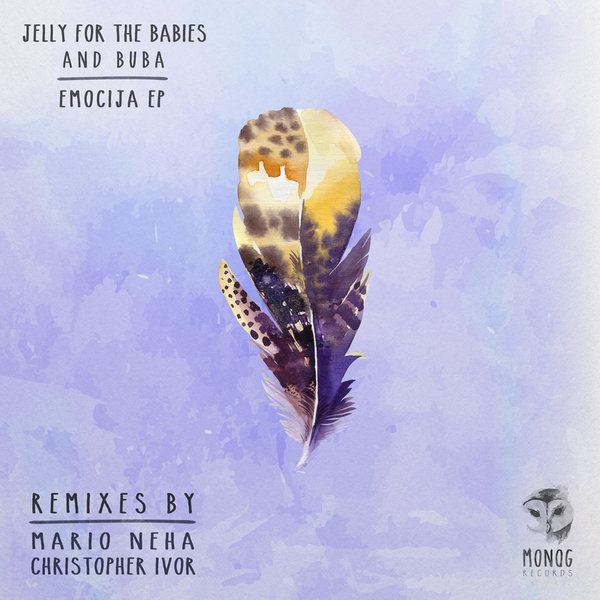 We welcome Jelly For The Babies and Buba to Monog Records with the superb debut Emocija EP. Both these guys have amassed extensive back catalogues over the years, garnering much respect from their peers. From a young age, JFTB was into electronic music and, since 2007, he has been honing his studio skills in the production of various genres of music. He manages three labels and boasts worldwide support. Buba is considered one of the most promising producers to come out of Montenegro. Currently he is enjoying the release of his studio album – Dreamlands, and we've no doubt his creativity will grab a lot of attention. We're delighted to have both on board.

The Original Mix of Let creates a solid, driving break beat groove. Chunky beats and bright hats are joined by exotic percussions which takes us deeper into the vibe. Dark stabs and a strong, pulsating bass lead us deeper as cosmic synths add a melodic charm to the groove. The break adds serene beach ambience as the synths open up for maximum impact before the beats return for the duration. Not to be missed.

First up on the remix we have Christopher Ivor's Daydream version of Let. Christopher is no stranger to Monog having debuted here with The Dreamscape EP. Growing up with music steered him to take the DJ, producer path he is on now. Over the years his style has become very broad and eclectic and this is something we love to celebrate. Here, Christopher delivers a beautifully composed and enchanting cut with a distinct Balearic vibe that makes you long for a trip to the White Isle. Buttery smooth beats and warm basses are joined by sounds of the beach and that rich, whispered yet hair-raising vocal. Melodic arpeggios become infectious as we're lured into the mesmeric groove. Top-notch stuff that does not disappoint.

The Original Mix of Talas is a deeper affair, with sub level basses droning on the low end. The bass produces a powerful response with emotive changes, complimenting the rising and intense strings and synths. Rhythmic percussions and a nice punchy kick force you to move while the tensions rise. The break unleashes the full force of the stacked synths, taking us to a higher plain and making this an absolute must have.

Mario Neha debuts on Monog with a wonderful remix of Talas. Switzerland based DJ, producer Mario, boasts a wide and varied catalogue of releases over the years. He runs his own imprint called Inyan Music, releasing quality cuts at every turn. Great to have him here. On the remix here, Mario adds an extra sprinkling of grunt to the groove with those plucky synth basses which are contrasted with wispy pads and scattered FX. Rich and dynamic, the track exists on a multi-layered construction moving between the light and the dark with changing emotions. Beautifully worked and deftly executed, this one is a must have.