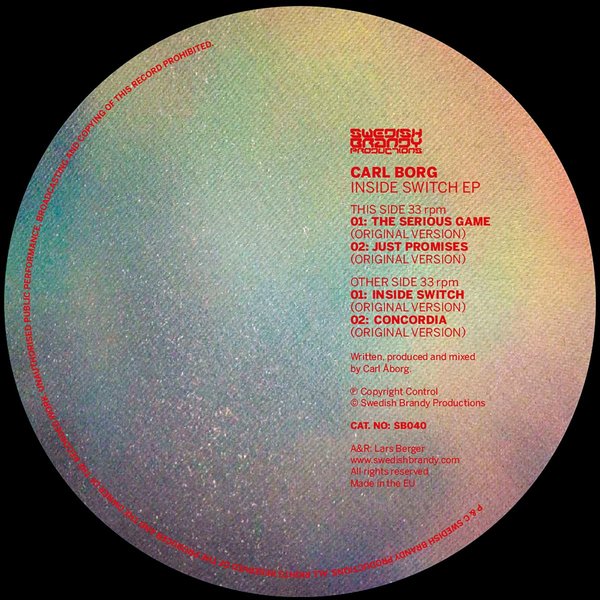 One of Stockholms finest beatmakers presents a massive four tracker

of deep house under his Carl Borg pseudonym.

Carl started making electronic music at the age of 14. He found his way into

house music after buying an Yamaha A3000 sampler, sampling through his

friends and parents vinyl collections. In 2004 he started to tour through Europe,

South Africa and Russia together with Forss (Eric Wahlforss) as Forss Versus Borg.

Playing live-sets consisting of both up-tempo house tracks and experimental glitchy

electronica. Carls debut release, the classic 12 inch Splinter Body Scene EP,

was released on German label Sonar Kollektiv during that same time. Since then

he has released several EPs, remixes and produced a number of original soundtracks

throughout the years. Carl played an important part of the band project S.F.B.

(Stoner, Forss, Borg), a fusion of acoustic jazz and live electronica, in 2006.

The project resulted in the album "The Lektor Tapes" on Gothenburg based label

Hoob Records.

Inside Switch EP is Carls follow-up to recently released Hidden Focus EP on

Swedish Brandy Productions. The opening track "Inside Switch" is an uplifting

90's house trip with dubby soul vocals, lush synth chords and a solid Moog-driven

bass line. The follow-up "Concordia" is a deeper Detroit-influenced track,

with an irresistible rolling bass line and large jazzy rhodes chords.

On the flip side, "The Serious Game" is a perfect dance floor heater. A bouncy

club track with sampled strings, massive piano stabs and wild dubbed out build-ups.

The EP rounds off with "Just Promises", a techy groover with hypnotic organ stabs,

warm string pads and a vintage-sounding vocal hook on top.

Inside Switch EP is Carls first 12 inch release on Swedish Brandy Productions.