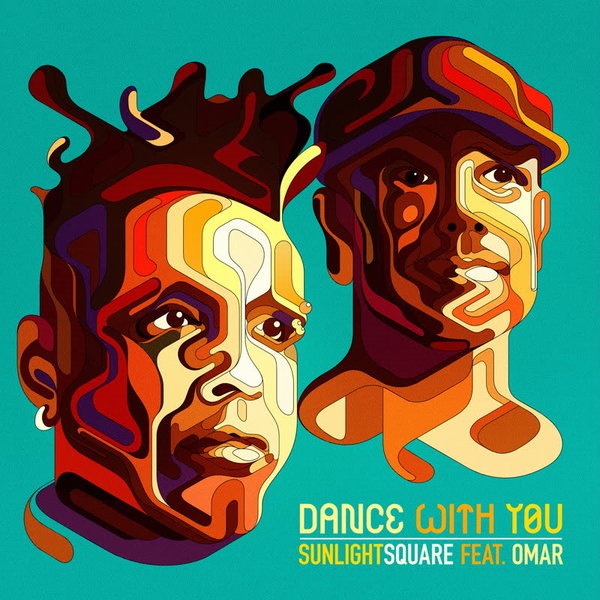 There are some records that simply drip sunshine, that contain that indefinable factor that evokes shimmering heat, the suns rays sparkling off the sea, lazy summer vibes, good times and that is undeniably the case with Dance With Me, latest collaboration between Sunlightsquare (Claudio Passavanti) and the undisputed UK heavyweight of all things soulful - Omar Lye-Fook MBE.
When two formally trained musical masters join forces, you can rest assured that the end results will be harmonically rich, melodic and memorable. When Dance With Me kicks off with it's funky bass line, electric piano, Moog synth and brilliantly evokes the classic rare groove era - and when the unmistakable tones of Omar's vocals enter the fray, then it's no brag to say that this tune has all the hallmarks of contemporary soul classic, but there's also an instrumental version featuring just the incredibly slinky sounds as a special bonus!
DJ Spinna shouldn't really need an introduction to anybody with a fully functioning pair of ears and his Dance With Me re-work sets the pace a little higher, puts it squarely in the middle of the dance-floor and balances out this gorgeous release with it's beautiful, minimalist club focused groove, and there's also a Moog heavy instrumental version too.
When you hear both the acapella tracks, Dance With Me (Lead vocals) and Dance With Me (Backing Vocals) the absolutely unique, unmistakable tone of Omar's voice is laid bare and demonstrates why he is a living legend and the vocalist of choice on many collaborations. 
Lead & Backing Vocals - Omar/Rhodes, Minimoog - Claudio Passavanti/Drums - Darren Abraham/Percussion - Giovenni Imparato/Bass - Daveide Mantovani/Guitar - Dave Ital/Trumpet Solo - Quentin Collins/Horn Section - Tony Kofi (sax), Byron Wallen (trumpet), René Alvarez (trombone)
Produced, Mixed And Mastered by Claudio Passavanti. Published by Sunlightsquare Records Ltd.