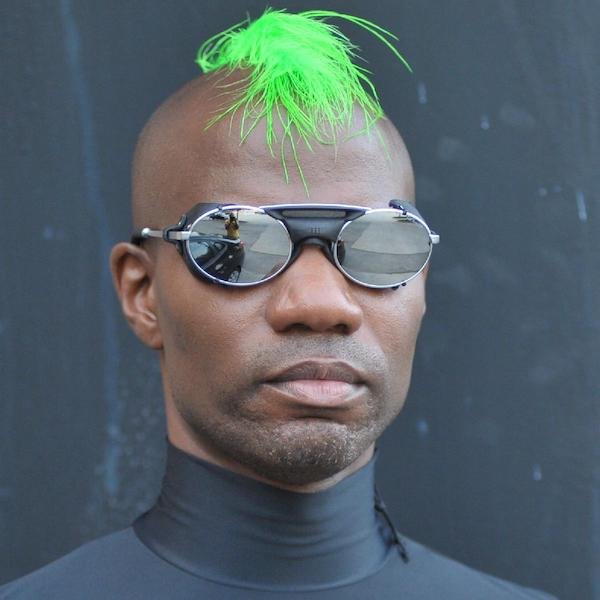 Artist
GREEN VELVET
Green Velvet, initially created by house don Cajmere (AKA Curtis Alan Jones) as an outlet for his non-vocal productions and frequent DJing gigs, grew to become even more popular than the man himself, thanks to club singles like "Preacher Man," "Answering Machine" and "The Stalker." Each were infectious, undeniably fun records with simple vocal taglines and a wonderful sense of humor.

Jones, who had nurtured the Chicago house renaissance of the 1990's with his Cajual Records, gained immense success in 1993 with the Cajmere single "Brighter Days" (with vocals performed by Dajaé). Later that year, he formed the sub-label Relief Records mostly for instrumental tracks by himself and others. Besides releases from DJ Sneak, Gemini and Paul Johnson, Green Velvet figured on many of the early Relief singles, including its first, "Preacher Man" as well as "Flash" (also released on the British label Open), "The Stalker" and 1997's hilarious "Answering Machine." Jones began to do supplement his Green Velvet DJing schedule with quasi-live gigs as well, and released his first LP in 1999. His self-titled release on F-111 one year later compiled a dozen of his earlier club hits, and the proper sophomore production album "Whatever" appeared in 2001 on his own Relief label.

Change has been a constant theme throughout the successful career of Green Velvet, but as he has crossed genres, explored themes from the comedic to the serious and changed monikers, the common thread running through the music he has made for nearly two decades is its roots in and dedication to the Chicago House sound.

His first transformation came when he left master's degree studies in chemical engineering at UC-Berkeley to turn a hobby into a career making music, influenced by the sounds he had been exposed to as a science-fiction-loving, video-game-playing kid whose father was a part-time Chicago DJ.

As Cajmere, he released his inaugural Underground Goodies EP in 1991 on his Cajual label, keeping true to the early House sound. He quickly followed it up the next year with the smash hit "Coffeepot (It's Time for the Percolator)."

Not one to rest on his success, he soon changed things up, teaming with vocalist Dajae for "Brighter Days," a more mellow House tune, this one released by Emotive. That pairing would be his last with a female vocalist until his recent partnership with rapper Kid Sister for "Everybody Wants."

The 17 years in between those two projects witnessed an incredible array of electronic music emanating from this prolific artist, as well as a second label under his direction, Relief. Adopting the persona Green Velvet (not to mention a Day-Glo shock wig) for his techno-oriented pieces and DJ appearances, he became the champion of new wave Chicago beats through the '90s-known best for hits such as "Preacher Man," "Flash" (a No. 1 U.S. dance hit in 1995), and 1997's laugh-inducing "Answering Machine." The decade ended with his first album, Constant Chaos in 1999. The new century brought a compilation album, Green Velvet, during a brief signing with Warner Bros. Records' short-lived F-111 imprint, and a production album, Whatever, on Relief. The punk-inspired Whatever explored darker themes than his previous work, including racism ("When?"), drug use ("Genedefekt" and "La La Land"), alienation ("Sleepwalking") and bending to authority ("Gat").

"La La Land" went on to become by far the biggest selling track of his career. His live act expanded as he began playing a keytar, with two other musicians-Nazuk and Spaceboy-backing him, playing heavily distorted synths.

The last decade also saw Green Velvet become a fan favorite across Europe, playing to huge crowds at festivals in addition to live radio appearances and club gigs. Numerous side projects and remixes under various names also added to his seemingly nonstop musical output.

2023-12-01

2023-10-27

2023-10-06

2023-07-28

2023-07-21

2023-07-14

2023-07-14

2023-07-07