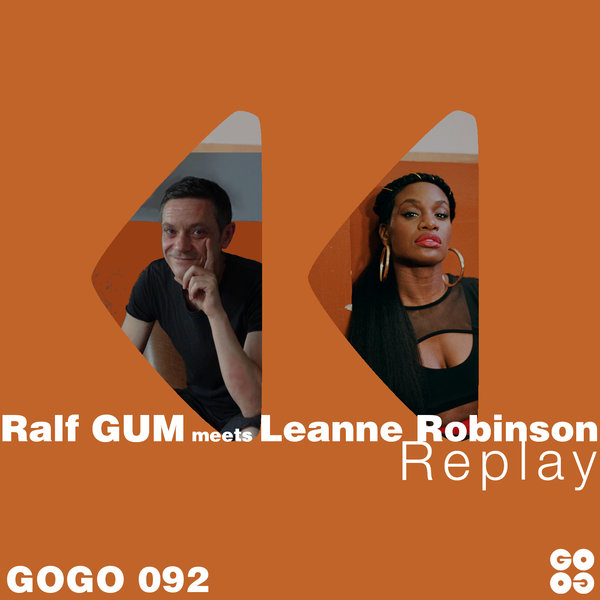 GOGO Music is excited to present the astonishing beautiful song "Replay", a collaboration between the vibe master Ralf GUM and London's Soul-sensation Leanne Robinson. Ralf comes up with a slightly broken beat that merges perfectly with Leanne's superior vocal performance into a unique and futuristic tune.

Ralf GUM finds himself definitely in one of his most creative periods ever and manages to put out one after the other perfectly crafted productions. Since 3 decades being an integral part of the House Music scene and running his label GOGO Music since 2 decades, there's no sign of him slowing down. During his career he effortlessly achieved something that every artist is longing for: he found his own sound, a distinctive, warm, always groovy and soaked in soul style, which is innovative and often breaks genre barriers.

Leanne Robinson is a singer, songwriter born and raised in East London who is deeply rooted in Gospel and RnB. From the tender age of 9, Leanne performed on the Barbican stage. Hungry to perfect her craft, she attended The Brit School where Leanne was introduced to the world of Musical Theatre. Fast forward Leanne's casting in the "Book Of Mormon" as the leading female role, for which she toured in North America for six month and holds it down since 2 and half years in London's West End. With her passion for Soul music, Leanne draws her inspiration from legendary artists such as, Whitney Houston, Lauryn Hill and Stevie Wonder as she continues to push for the very thing she was evidently born to do.

GOGO Music continues to proudly present first class records which are fresh, transport meaning and tickle the dancing feet. And "Replay" is no exception to this.

Exclusive and only here on Traxsource: "Bad Energy" as a bonus track. Don't miss out.


Tracklist:

1 - Replay - Ralf GUM Main Mix - ISRC: DEY162009201
2 - Replay - Ralf GUM Main Instrumental - ISRC: DEY162009202
3 - Replay - Ralf GUM Reprise - ISRC: DEY162009204
4 - Replay - Ralf GUM Radio Edit - ISRC: DEY162009203
5 - Bad Energy - Ralf GUM Extended Mix - ISRC: GB5JT1300018

1 - 4: Written by Leanne Ester-May Robinson, Michael Ehnes, Ralf Benkert, Jevon Poitier Harding.

Produced by Ralf GUM and Michael "Nivalito" Ehnes.

Lead and background vocals by Leanne Robinson.
Vocals recorded at KingShip Studios, London. Vocal recording engineered by: Tashan Bonner

Drum programming, Congas, Bodhran, Shaker, Woodblocks, Moog Bass, Synthesizer: Ralf GUM.
Fender Rhodes, Piano, Lead, Synthesizer, String arrangement: Michael "Nivalito" Ehnes.

5: Written by Leanne Robinson, Ralf Benkert, Michael Ehnes, Jevon Poitier Harding, Kyle Martell Mckenzie.
Produced by Ralf GUM and Michael "Nivalito" Ehnes.
Drum Programming, Congas, Shaker, Bells, Claps, Cymbals, Moog: Ralf GUM.
Fender Rhodes, Synthesizer, Keyboards: Michael "Nivalito" Ehnes.

Mixed by Ralf GUM at GOGO Music studios.
Mastered by Masterlab.de.
Published by GU Music Publishing, Copyright Control.
P&C GOGO Music 2021.
GOGO Music ... music it is and is it!