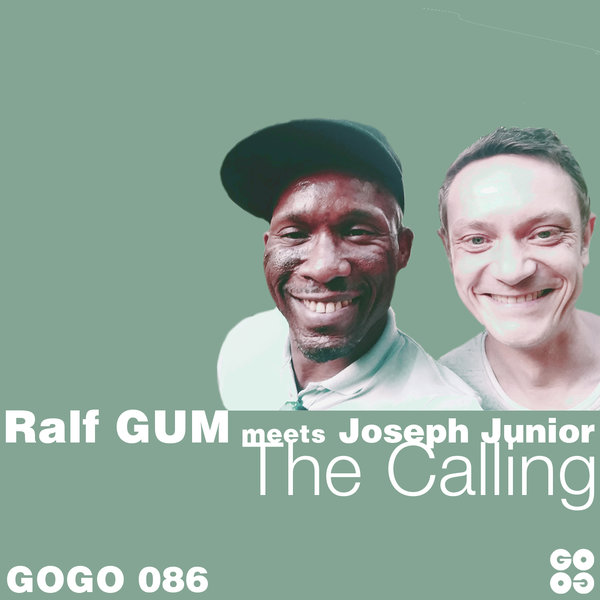 GOGO Music is excited to present this new single by Ralf GUM who collaborates on the meaningful "The Calling" with Joseph Junior. After Ralf focused mainly on his full length albums during the last years, he decided to make 2020 a year of collaborations. This release is the first of them, which we proudly present on the label.

Ralf GUM has been one of the most consistent House Music artists since the start of his career 3 decades ago. With four full length albums under his belt, which all were globally celebrated as some of the most outstanding long-players ever released in the genre, Ralf promised to release various singles and EPs this year. "The Calling" is his collaboration with Joseph Junior who is already known through his GOGO Music outings with MAQman, Sir LSG and of course the smash hit "Back To Love", a duet with Ayanda Jiya taken from Ralf GUM's latest album "Progressions".

Joseph Junior grew up on a musical diet combining Classic Soul, Disco, Afro Beat and Jazz thanks to his father. All these influences enabled him to create a very own vocal style. Joseph made himself a name in the UK Neo-Soul scene and work alongside artists such as Omar, Roachford, Mica Paris, Jocelyn Brown and Gwen McCrae followed. A whole new world for him opened when he discovered House Music and teamed up with MAQman. Since then he established as a sure source for well written songs and a regular vocalist on GOGO Music. Lately Joseph has as well been part of Ralf GUM's All Stars who performed as a 13 piece collective at "DTSV Delicious Festival" in Johannesburg, South Africa.

GOGO Music is happy to see Ralf GUM following up last year's "Progressions" album release with a song that's perfectly fitting our current uncertain times and which is sending a much needed positive message to the world. Ladies and gentlemen here's "The Calling".


Tracklist:

1 - Ralf GUM Main Mix - ISRC: DEY161808601
2 - Ralf GUM Instrumental - ISRC: DEY161808602
3 - Ralf GUM Reprise - ISRC: DEY161808604
4 - Ralf GUM Radio Edit - ISRC: DEY161808603

Written by Joseph Okitikpi, Michael Ehnes, Ralf Benkert.
Produced by Ralf GUM and Michael "Nivalito" Ehnes.
Lead vocals and Background vocals by Joseph Junior.

Drum programming, Congas, Shaker, Dun Dun, Cymbals, Bells, Woodblocks, Small Percussions, Moog: Ralf GUM.
Fender Rhodes, Piano, Synthesizer, Organ, Vibes, Lead, Strings: Michael "Nivalito" Ehnes.

Mixed by Ralf GUM at GOGO Music Studios.
Mastered by Masterlab.de
Published by GU Music Publishing, Copyright Control.

P&C GOGO Music 2020.

GOGO Music ... music it is and is it!