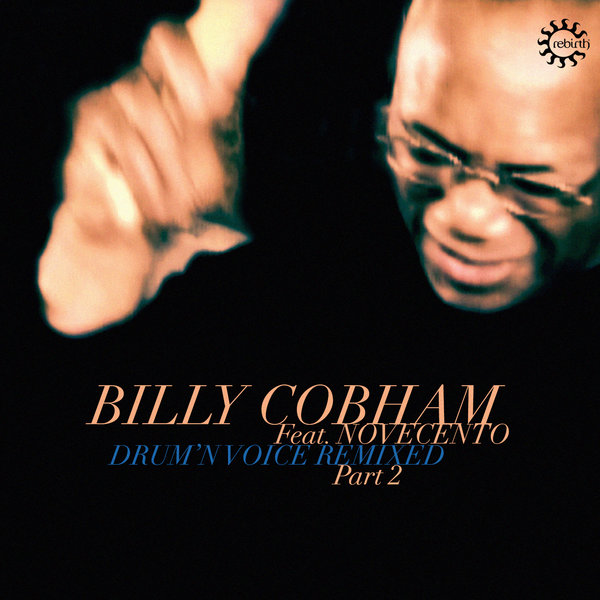 Drum'N Voice Remixed - Part Two
Rebirth
REB120B | 2019-08-23
We are honored and excited to present the album 'Drum'N Voice Remixed' by the legend Billy Cobham in collaboration with Italian's finest music producers and composers Novecento.

Acclaimed as jazz-rock fusion's greatest drummer, Billy Cobham has dedicated his whole life to musical exploration and creative expression. Throughout his career he has collaborated with artists like Miles Davis, Horace Silver, Airto Moreira, George Benson and appeared on over 300 recordings, including icons like Peter Gabriel, Quincy Jones, Jack Bruce, Bob Weir, and James Brown. The first album 'Spectrum' is a masterpiece and still considered a reference album today.

'Drum'N Voice' is a collaborative project with the Nicolosi family, known collectively as Novecento. After reaching the top of the European and American charts with their Italo Disco hits, they decided to explore new ideas and evolve their music leading to a jazz and ambient territory.

'The Vibe Inside' is a fresh and captivating song that features the beautiful voice of Dora Nicolosi (the real voice of Valerie Dore) and Eumir Deodato at the rhodes. A very strong combination between Billy Cobham's jazz sounds with the Italo disco flavour. The release boasts two really powerful remixes from Gerd Janson and Emanuel Satie.
Gerd, always an admirer of the italo sound, pulls us in with his typical vibe, mixing the vocals with a powerful piano riff, an acid bassline that does not come out of the head, while Emanuel, follows the amazing 'Don't Forget To Go Home' (produced with Billy Cobham in 2018), giving us another massive track destined to ignite this summer dancefloors.
Finally, to close the release, Craig Bratley produces a beautiful and elegant downtempo version of 'One More Day To Live'.

A limited double vinyl will be released at the end of September, that will also include some other incredible remixes of the songs of the album.