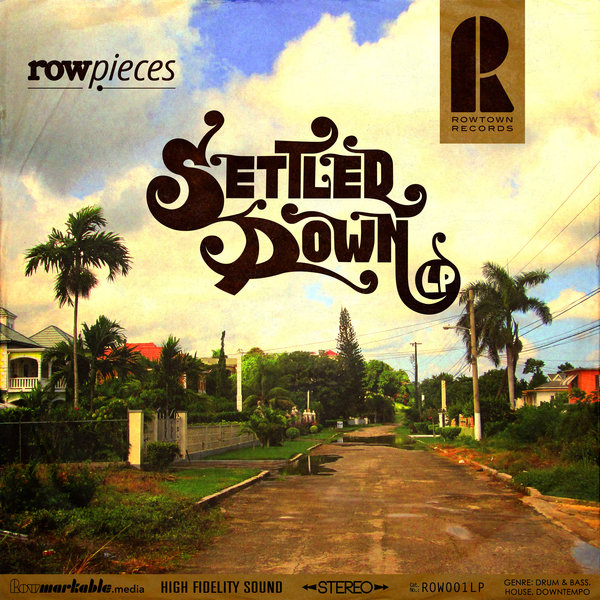 The waiting is over! Rowtown Records opens its doors and drops the long awaited album of label boss Rowpieces. He is known worldwide in the Drum & Bass scene for his Soul-laden music and serves 12 tracks with his distinctive sound, whether Liquid Drum & Bass, House or Downtempo. For those who like to read some background facts about the audible, a few lines will follow.

Opening track "Dirty Mind" was created after a long break at the end of the year before last and was the first production in the new studio. The title is inspired by the saucy vocals on the drumbreaks used, around which matching sounds were placed to create a special atmosphere. The distinctive "Today Is A Good Day" is dedicated to and inspired by Westcoast Hip Hop and its roots, which no old school head should overhear. By the way, if the LP version of this track is too short for you, you can find the extended version on the previous "Settled Down - Lil' Appetizer (Album Sampler #1)". "Share The Vibes (Calm Down Version)" is the Downtempo version of the original which came out as the first signing on the well known yellow smileylabel. Since the track is very jazzy, a more relaxed version was the obvious choice. The bold "The Feeling Tune" is one of the fresher productions and something like a guideline for future works, a foretaste of what to expect from Rowpieces. The atmospheric "My 1 & Only" is over 10 years old and has only been re-mixed and mastered. Since the basic mood somehow sounds up-to-date and in contrast to other older productions doesn't stand out too much from the current sound image, the decision was made to put it on this album. The jazzy and Jungle-like "When Morning Comes" will be known to some in the scene and was originally considered for release by our good friends at Jazzsticks Recordings, but we decided to release it on this album. "Out Of The Crisis Stronger Than Before" is a little soundtrack from the bumpy life of Rowpieces, but if you expect a nasty bass thunderstorm you're wrong because it's atmospheric, driving and with a conciliatory mood, according to the motto "all's well that ends well". The House tunes "Constant Warmth" and "I've Got Hopes" are funky, groovy and of course soulful as well as atmospheric and don't follow the Drum & Bass productions in any way and are absolutely authentic. House has always been Row's second love in newer electronic music and more will soon be heard on this label, especially from his Groove Marauders project. The taillight "Flight To Gliese 581 (2019 LP Re-flight)" is a bit older and has been modernized with a few additions and of course mastered to the latest standard. With this dreamy title and lots of room for interpretation this album ends and sets the bar for the upcoming releases on Rowtown Records, what you can be really excited about.

Finally it should be mentioned that the title "Settled Down LP" is in many respects fitting to Rowpieces' life and current state of knowledge. First of all he found a proper and beautiful home after a long period of homelessness again a few months ago where he can rest and develop artistically, secondly he founded Rowtown Records where he will release all his music in the future, and thirdly he arrived spiritually more or less in the sense of what he wants to do with his life as a human being and artist according to his soul plan. And one of them is definitely to make music without any marketing thoughts - just live music.