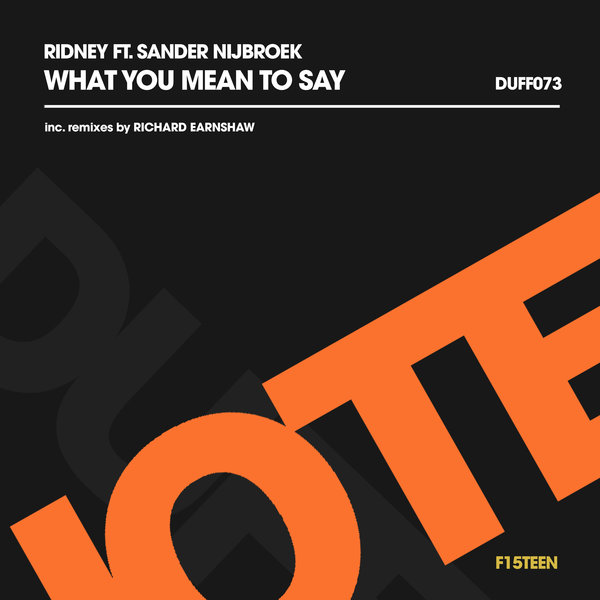 Early support from: Tough Love, Mark Knight, Seamus Haji (Radio Show Support), Roog, Lenny Fontana, Mambo Brothers, Danny O (Cafe Mambo), Stonebridge, Booker T, Duane Harden (Radio Show Support), Dario D'Attis, Vanilla Ace, Jask, CJ Mackintosh, Roger Sanchez, Sam Feldt (Radio Support), Mark Doyle, Deeptrak, Black Legend, Stonebridge, Robert Owens, Eric Kupper, Treasure Fingers, Jay Vegas, Niall Redmond (RTE Pulse), Peter Borg (Mi-Soul), Mark Di Meo, Steve Taylor, Kenny Carpenter and more...

Continuing the 2018 F15TEEN campaign, Duffnote welcomes Cafe Mambo resident, label owner (Extra Dry) and Radio host Ridney and his latest collaboration 'Say What You Mean To Say' with Dutch vocalist Sander Nijbroek. The deep swirling production of the original complimented by Richard Earnshaw's bass driven synth party.

ON BEHALF OF EVERYONE INVOLVED, THE WRITERS, PRODUCERS, REMIXERS AND PERFORMERS....THANK YOU IN ADVANCE FOR YOUR SUPPORT IN THE CLUBS, ON THE RADIO AND IN YOUR CHARTS... Team Duffnote x

Written & produced by Paul Ridney.
Vocals written and performed by Sander Nijbroek

Remix & additional production by Richard Earnshaw
Keys/programming - Richard Earnshaw
Mixed & mastered @ Little Big Studios, West Sussex, UK.