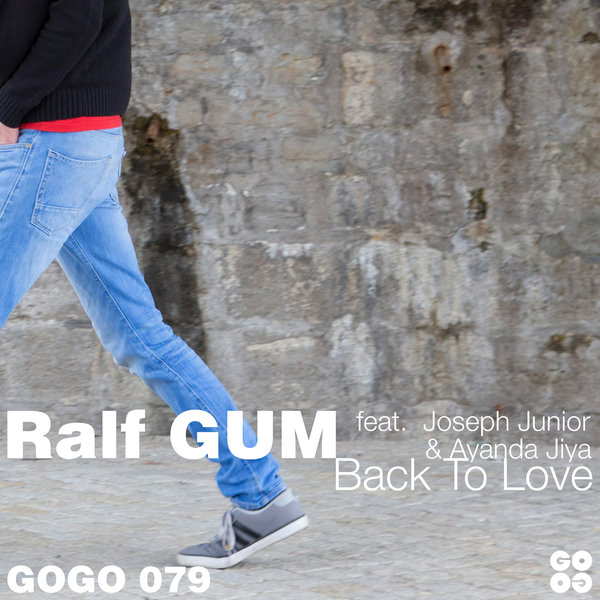 Back To Love
Ralf GUM feat. Joseph Junior & Ayanda Jiya
GOGO Music
GOGO 079 | 2018-09-14
GOGO Music is excited to present "Back To Love" a stunning soulful stomper on which Ralf GUM brings together two of his favorite singers Joseph Junior and Ayanda Jiya for a superb duet.

German born and South Africa based Ralf GUM has been present in the House Music industry since the early 90's, and has built up an excellent reputation within the music industry thanks to his unique sound and consistent quality output. Always trying to push the envelope to complement the already established sound, he became known for his forward thinking productions and DJ sets alike. This new single release sees him delivering a catchy and classic soulful House anthem again, yet outstanding thanks to Ralf's typical love for finer detail and production finesse.

Joseph Junior was born into an environment steeped in a deep musical appreciation. His childhood in South London to Nigeria then London again, played out to an eclectic soundtrack stretching from the likes of Africa's own Miriam Makeba and Fela Kuti to Detroit's Motown to Northern Europe's ABBA and beyond. Those early influences added to his musical schooling, as discovering artists like Anita Baker, George Benson, Coltrane and Ella did. With this strong foundation Joseph delighted us with many beautiful songs and goes from strength to strength lately, as he has released a string of collaborations with his usual production partner MAQman this year, too.

Ayanda Jiya was born in Klerksdorp, South Africa and is currently one of the hottest names in the countries' RnB scene. In 2015 she was nominated for the Best RnB Single of the year by Metro FM and since then has released various further radio hits. To House Music lovers she's mostly known thanks to her collaborations with Sir LSG "Sandcastle" and "Fly Away", both part of LSG's celebrated "Moving Circles" album released in 2017.

GOGO Music is proud to present "Back To Love", an exceptional heartfelt song which is an excerpt of Ralf GUM's forthcoming album due for release in the first month of 2019.

GOGO Music ... music it is and is it!

Tracklist:

1 - Ralf GUM Radio Edit 3:49 %u2013 ISRC: DEY161807901
2 - Ralf GUM Main Mix 7:26 %u2013 ISRC: DEY161807902
3 - Ralf GUM Main Instrumental 7:23 %u2013 ISRC: DEY161807903
4 - Ralf GUM Beat 7:10 %u2013 ISRC: DEY161807904

Written by Joseph Junior, Ayanda S S Jiya, Michael Ehnes, Ralf Benkert.
Lead vocals: Joseph Junior and Ayanda Jiya.
Background vocals: Joseph Junior and Ayanda Jiya.
Produced by Ralf GUM and Michael "Nivalito" Ehnes.
Drum programming, percussion programming, Shaker, Woodblocks, Djembe, Bells, Roland SH 101 Leads: Ralf GUM.
Fender Rhodes, Piano, Lead Synth, Synth Strings: Michael "Nivalito" Ehnes.
Bass: Krischan Frehse.
Cymbals: Kekelingo.
Mixed by Ralf GUM at GOGO Music Studios.
Mastered by Masterlab.de

Published by GU Music Publishing, Copyright Control.

P&C GOGO Music 2018.