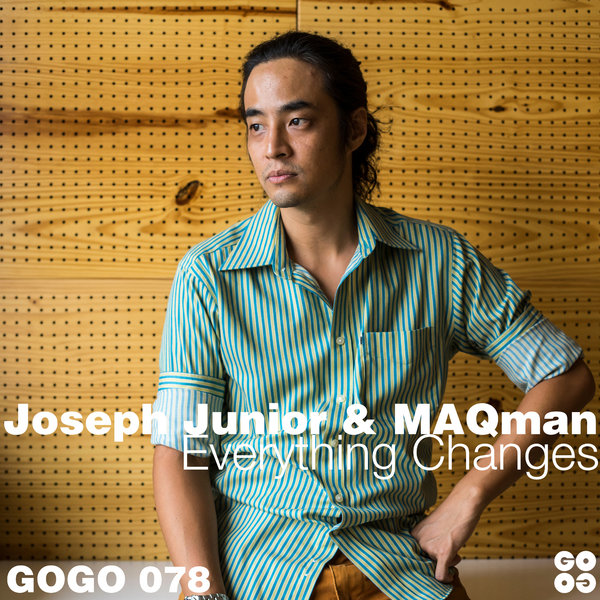 We proudly present the single "Everything Changes" by the tag team Joseph Junior & MAQman who are delighting us with much superb music this year. This title has been in the making for quite a while and is now available with a remix by DJ Spinna who delivers a 9 minute plus journey in his gracious style.

Since Joseph Junior and MAQman started working together as a singer-songwriter and producer-musician team they have been responsible for many soul-soothing releases including their classics "Don't See Love" and no "No Better Love". Their latest outing "Everything Changes" falls seamlessly into he ranks of those and utilizes a collective of international musicians with percussion and guitar recordings taking place in Switzerland, keys and bass recorded in Hong Kong and Joseph laying down the vocals in a studio in Vietnam together with Vietnamese female backing vocal singer Phi Pham whose beautiful breathy female vocals added a colorful tone to the song. Joseph says that he wanted to give a message that "in any difficult situation we find ourselves, there is a point where it changes, in time mostly for the better..." and proves his ability to write heartfelt songs, while MAQman's production skills make sure the message is packed into a silky production.

DJ Spinna needs not much of an introduction and in his own words feels like an "inhouse remixer" by now. And it is as well needless to say that we're always happy to have him on the label again, as he already added his unique touch to various titles of our catalogue. He takes the organic original to clubbier territories and adds his unique lead driven soundscape, while keeping the integrity of the song alive.

GOGO Music is happy to release "Everything Changes", another classic piece of music by Joseph Junior & MAQman which will not fade with time.

GOGO Music ... music it is and is it!

Tracklist:

1 - MAQman Radio Edit - ISRC: DEY161807801
2 - MAQman Main Mix - ISRC: DEY161807802
3 - DJ Spinna Remix - ISRC: DEY161807805
4 - DJ Spinna Instrumental - ISRC: DEY161807806
5 - MAQman Instrumental - ISRC: DEY161807803
6 - MAQman Reprise - ISRC: DEY161807804

Written by Joseph Okitikpi and Minh Anh Quach.
Produced by MAQman.
Lead vocal, backing vocals and vocal arrangements by Joseph Junior.
Female Backing Vocals by Phi Pham.

1), 4), 5), 6): Programming and arrangements by MAQman.
Fender Rhodes, Bass by Jezrael Lucero.
Guitars by Raul The Great Romancer.
Congas by Dani Haechler.
Mixed by MAQman.

2), 3): Remixed by DJ Spinna For Beyond Real Productions.
Drum programming and Keyboards DJ Spinna.
Synth Solo: Space Jones.
Mixed by DJ Spinna at the Thingamajig Lab2 Brooklyn NY.

Mastered by Masterlab.de
Published by GU Music Publishing.

P&C GOGO Music 2018.