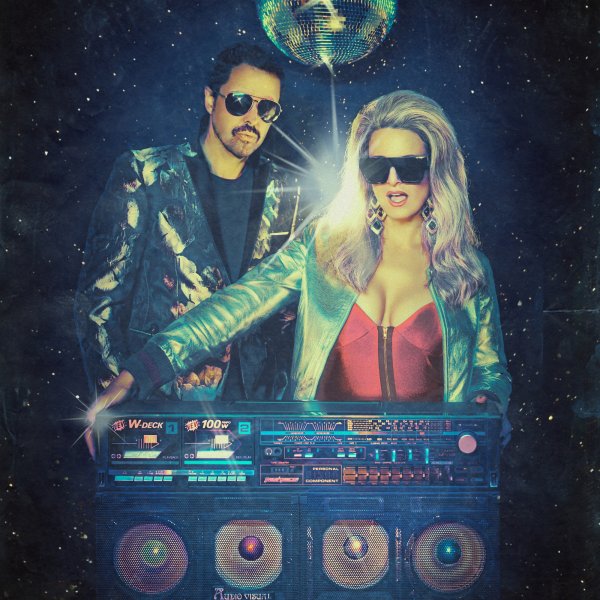 Artist
SUPER DISCO CLUB
Super Disco Club is the brand-new project from DJ & producer Andy Van and singer songwriter Cassie Van.

Andy Van has been one of Australia's leading DJs for over two decades and has spun at virtually all of Australia's biggest clubs and events including Summadayze, Gatecrasher, Stereosonic, One Love, Platinum, HQ and Family (to name a few). He has also spun out to hundreds of thousands of clubbers across the globe, including performances at Love Parade (UK), Creamfields, Manumission, Space, Bora Bora, (Ibiza), Ministry (UK), alongside the world's leading DJs including AVICII, Pete Tong, Eric Morillo, Roger Sanchez, Armand Van Helden & Fatboy Slim.

Andy has swung a bat through the record industry with his internationally renowned Vicious Recordings dance label, with over 1000 releases over 20+ years. As head of A&R Andy first signed & developed artists including AVICII, Dirty South, Sgt Slick, The Potbelleez and Angger Dimas.

Between all of this, Andy has also achieved massive success with his producer hat on, as one-half of household invaders Madison Avenue, with their Hit singles "Don't Call Me Baby" & "Who The Hell Are You" achieving over 50million+ streams, and #1 UK, Europe & Australia chart placements.

Andy was also part of the successful dance artist 'Vandalism' amassing over 35 remixes including "Creeps" - The Freaks, (UK#1), Rise Up - Yves La Rock, He Not In - Chicken Lips, Hey Hey - Dennis Ferrer (to name a few) & hit singles: Smash Disco, She Got It, Throw Your Hands Up, all destroying club & dance charts. Andy's solo remix of Tom Novy's "Your Body" was also a massive dance and pop hit around the world placing top 5 in UK pop charts. He's also delivered a constant flow of mix CDs (including three Ministry of Sound Annuals & 2 Pacha Compilations)

Cassie Van has been on the stage since the ripe age of 4 and has performed in some of the best clubs and festivals in recent years all over Europe, Asia, UK, Canada, America and her home country Australia.

Cassie's first love of disco started at a young age listening to her mother's vinyl collection including 'Boney M' and the 'Bee Gees'. She started her singing career in a girl band covering disco classics.

It was during her days as a professional dancer for the hugely successful disco/house artist Madison Avenue that she met Andy Van & eventually their passion for dance music bought them into the studio together and they created the electro house artist 'Vandalism'. Her first song with Vandalism 'Never Say Never' became a huge club hit around the world, and so also began the start of her professional song writing career by penning the Vandalism songs 'She Got It', 'Smash Disco', 'Throw Your hands Up', 'Rockin' and 'Vegas'. Their last release, a cover of the huge hit 'Shiny Disco Balls' also went number one on the club charts.

2022-09-02

2022-08-26

2021-11-26

2021-10-22

2021-10-22

2021-10-22

Ecstasy
Super Disco Club Extended Remix

(4:58)
2021-10-22

2021-10-08

2021-10-08

2021-10-08