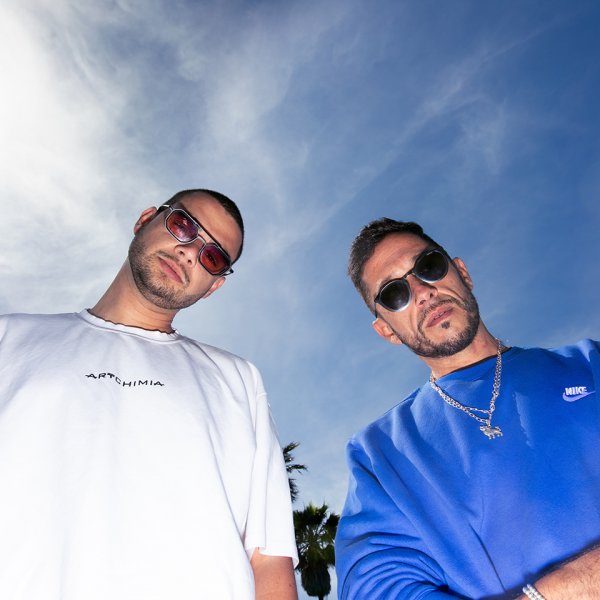 Artist
SPARROW & BARBOSSA
Sparrow & Barbossa is a Madrid-based DJ and producer duo formed by the Swiss Bryan Coletta and the Uruguayan Emiliano Haberli. Bryan is a pianist born to a musician's family; his father is the legendary guitarist Francis Coletta who worked with artists like Whitney Houston, Quincy Jones, and Frank Sinatra. Emiliano was born and raised in Uruguay, a region dominated by African colonials, and was widely influenced by 'The Culture Of Candombe,' a pure African tribal rhythm from colonialism.

Since a very young age, Bryan has been inspired by Soul, Jazz, and Funk, which he uses in his creations with a remarkable capacity for improvisation and versatility. Emiliano embarked on his music career when he moved to Europe in 2004, where he connected with the electronic music scene of Madrid. Bryan and Emiliano created a fusion between organic instruments and electronic sounds. Globe-trotters, who're true lovers of ethnic and lost cultures, are devoted to transmitting this legacy through electronic music.

Sparrow & Barbossa's production debut came in 2018 with their version of Mory Kante's classic 'Yeke' released on Wired Records. The track became a #1 Afro House record. In 2020, they released 'Nterini,' a remix for Fatoumata Diawara's on MoBlack Records that became a #2 Afro House Record with around 2 million plays on Spotify.

Sparrow & Barbossa's debut album 'Seven Seas' was released in 2021, featuring starring collaborations with Mo'Horizon, Dele Sosimi, Floyd Lavine, Josh Milan, Francis Coletta, Idd Aziz, and DJ Chus became #1 Afro House album on Traxsource cross-genre and reached over 11 million streams on Spotify. 'Morena,' also included in the Album, became an Ibiza Anthem thanks to the Keinemusik crew, Adam Port, &Me, and Rampa, their strongest supporters.

In 2022 Bryan and Emilano started their own record label, Tortuga Tribes, giving a voice and a home to a whole community of artists and musicians from all Latin America and democratising a genre they have decided to call "Caribbean House". The label has been home for notable releases already such as "Finesse" (Anis Hachemi x Emir), "Grown & Sexy" (Sparrow & Barbossa) or "Love" (Band&dos) amongst others.

Sparrow & Barbossa's sophomore album Réciprocité was release in June of 2023. The album features performers such as Starving Yet Full (Hungry For The Power), Maria De Moraes (Vinicius de Moraes' Daughter), Phindile Ndlovu (Lion King) and remixers such as Monkey Safari, Boddhi Satva, Manoo, Amine K, Kintar and Michel Cleis amongst others.

Shortly thereafter, Bryan and Emiliano linked up with German showstopper Rampa from Keinemusik to release their summer anthem "Champion" which hit # 1 on another download site's Afro House chart within the first 24hrs of release.
2023-11-24

2023-11-10

2023-11-10

Say What
Sparrow & Barbossa Remix

(7:01)
2023-10-27

2023-10-20

2023-09-01
2023-08-25

2023-08-25

2023-07-28

2023-07-21