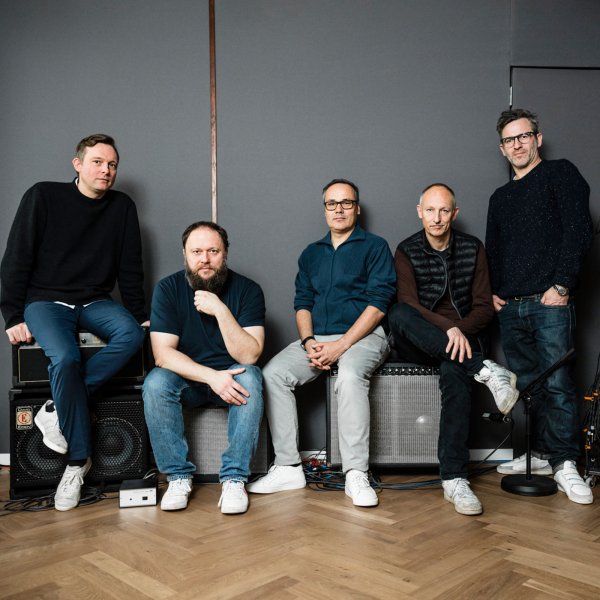 Artist
JAZZANOVA
Berlin's Jazzanova collective formed in 1995, after DJing with one another at a club called Delicious Doughnuts. Alexander Barck, Claas Brieler, Roskow Kretschmann, Stefan Leisering, Axel Reinemer, and Jürgen von Knoblauch shared a common goal of blending their collected inspirations together to create a new, sophisticated sound, with debts owed to nearly every form of dance-oriented music from the past several decades.


Like a lot of upstart producers and underexposed jazz-funk ghosts of the past, Jazzanova got their first major break from BBC disc jockey Gilles Peterson, who played the group's first production, "Fedime's Flight," on his program in 1997. This helped set off a series of remix projects for the likes of 4hero, Koop, Men from the Nile, and Ian Pooley, most of which would be compiled for the two-disc The Remixes 1997-2000. As the remixes and acclaim piled up, Barck, Brieler, and von Knoblauch were teaming together to make the Jazzanova name known for inspired DJ sets as well; Leisering and Reinemer teamed on the decks as Extended Spirit, and Kretschmann played out as Kosma.


The same year that "Fedime's Flight" broke out in the dance underground, Jazzanova teamed up with the Munich-based Compost label to form JCR (Jazzanova Compost Records). "Fedime's Flight" and "Caravelle" were the first two 12" releases, and both went down extremely well with DJs. In addition to functioning as the primary outlet for Jazzanova's own work, JCR released material from Koop, Victor Davies, the Underwolves, and Rima; looking to the past, the Polish Jazz and Vocal Jazz from Poland 1965-1975 compilations brought jazz from '60s and '70s Poland back into circulation.


In Between, Jazzanova's ambitious (to a fault) debut full-length, finally arrived in 2002. Allegedly the culmination of five years worth of work, the album sustained the group's reputation with tracks full of meticulous beatcraft. Remixed, released just a year later, featured remixes of In Between and 12" tracks from peers Kyoto Jazz Massive, Ayro, King Britt, and Bugz in the Attic. In 2005, the jazz label Blue Note gave the group access to their classic back catalog for the double-mix CD Blue Note Trip. Amidst scads of other mix albums, compilations, and Sonar Kollektiv product, their second full production album, Of All the Things, appeared in 2008. The remixes kept coming when Sonar Kollektiv commissioned a series of Jazzanova remixes to a slew of producers and DJs, resulting in two vinyl 12" EPs in the fall of 2011. They combined them for a full-length CD entitled Upside Down in January of 2012. Following a tour with a full live band, Jazzanova recruited Detroit vocalist Paul Randolph to document what had transpired, but in a studio setting. The end result was The Funkhaus Studio Sessions, which was released in the spring of 2012.

2018-08-31

2018-08-31

2018-08-31

2018-08-31
2018-06-29
2018-06-29
2018-06-29