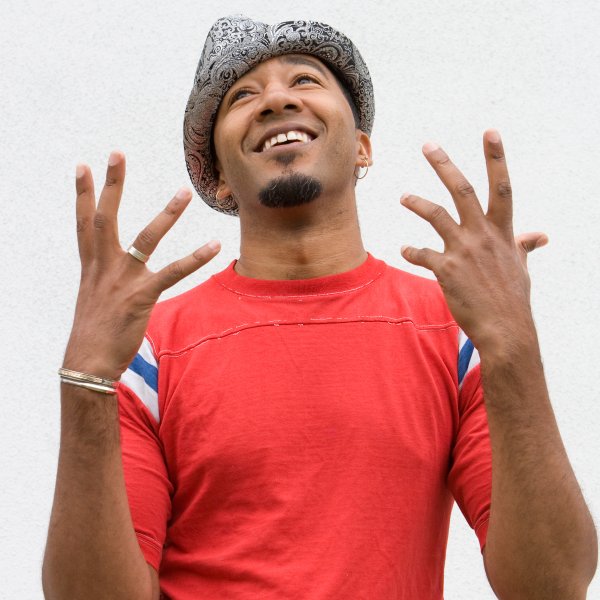 Artist
LOUIS HALE
"I am an uber-geek with a style unique
vocabulary replete with artful technique
A Soulchild that's so wild I keep on file
any proclivity for activity that will make all smile
While I am a peaceful person I'm certainly passion full certain to pull from the depths of my being
whatever creativity I have is what I am using Sometimes introspective, sometimes outgoing, lefthanded, rightbrained
until you talk to me
which one I'm showing you're never knowing
Fast on my feet but not on my head, instead
I like to think things through before I do
Deliver my line in the space of nine but when it drops it'll taste like wine, fine & better with age
An old soul now but young on stage
One day I hope to be all the rage
though never I hope with my soul in a cage"
~Louis Hale

Words words words. 
He tried to a avoid them, but they were everywhere. 

Trapped was he (in a loving way) between a Radio News Reporter for a Father and an English Teacher for a Mother, so he ran to the visual arts and became an Illustrator, a Designer.  But the words were coming.  He ran to Dance and tried it all from Ballet to Hip-Hop.  But the words still chased him.  He dodged them like bullets and turned to acting.  Figuring that if he was someone else, it couldn't come after him.  But he was wrong. 

The love of Dance led him to House, and one day, DJ Kemal of Balance at King King fame asked him to record some poetry over beats.  "Who, me?" As weird as it sounded at the time, he obliged, knowing that he had been writing secretly, everyday for years.  He stepped to the mic instead of the floor and was able to dance with people the way he always had, though with words as his feet, hips, and arms. 

The words finally got him. 

He found many friends and partners through the wordplay, and found himself dreaming about it everyday. 

Those words have landed all over the recording landscape, at Salted, OFF, Golden State, Dufflebag, Soul Fuel, Qubonix, Phobic, Seven, Hermosa, Indeependent, Generate, Purple, Blacksoul, MoreHouse, Inspected, Sutra Sounds, Look at You, MoBlack, and Seamless, with more on the way...

The words released a love he'd been harboring all this time, and led him to the door of music. Through which he found his hands on turntables, letting those hands do the talking. He pulled from everything he'd ever heard, realizing that it all makes sense in House. Now having played and performed before the peoples of JEL-O, Beatbox, Boom Box, Hush Crew, SoulShack, Incognito, Thang, Brothers Vybe, Balance, DEEP/Exhale, Unity, Hustle, Re:Fresh Radio, Elastic Beatz, ReDISCOvery, West Coast Soul Events, So.F.T. LA, and For Those Who Know, as time goes on Louis is proving himself to be a mainstay in the west coast house scene, with a reach throughout the House Music world.

The kinetic imagery, danceable lyrics, and rich voice that have become Louis' style have been used to great effect to bring people together worldwide to boogie to this thing we call House. With more releases and performances on the way, Louis' voice in House music will be heard moving many feet to the future.

2023-04-24

2023-04-24

2023-03-09
2021-09-10
2021-09-10
2021-09-10

2020-12-25

2020-11-09

2020-11-09

2020-11-09