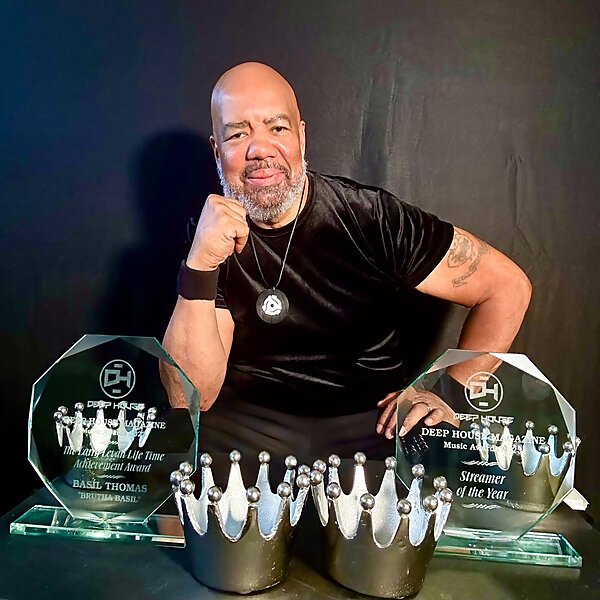 Artist
BRUTHA BASIL
Brutha Basil

DJ/Producer/Writer/Spoken Word Artist
DJ Basil,Basil Hardhaus, Basil Hardhouse, Basil.

DJing an amazing 46 years a former staffer at the Paradise Garage with a residency at NYC mainstream clubs Nells & The Choice alternating nights with his mentor Larry Levan.

In 1989 Basil began releasing music, the classics 2 EP's Basil Hardhaus & Basil Hardhaus 2 dropped on legendary label Nu Groove. Then classics were released on Kingstreetsounds label that help to establish the iconic house music label in the 1990's.

Brutha Basil has recorded on 2 occasions with Grammy winner DJ Louie Vega entitled "Freedom Of Dance (Its The Beat)" and again with Soul Mission Series "Deep Belief" in 2019. Also on his resume are classics with Quantize Records "City Streets 25" and "This Is What We Do Underground". And the Groove Odyssey anthem "Stress" in February 2019.

Followed by his 2nd feature on the #1 Traxsource album by Stacy Kidd "Night Life" and then another Top 10 track with Coflo entitled "Time Stays Tickin'" on his birthday in May 2019.

And recently in consecutive back to back months October/November releasing Afro House tracks that were Top 5 "Warning" & "Warning Remix" collaborating with Italy's Peppe Citarella and Mexico's Andres Mijangos on these hit tracks. Making 2019 it an incredible five Top 5's in the year in 3 different genres Afro House - Soulful House - Deep House.

Coming on Atjazz Record Company with Australian producer Hatha (Aaron O'Brien) "No Discrimination". And the soon coming collaboration with singer Scotty P and the Moroccan Sensational DJ, Producer FNX Omar #45AintShit.

In addition Brutha Basil can be heard weekly on his housefm.net 2 hour show "BRUTHA". Expect coming projects in 2019 with Tasha LaRae and producer Vick Lavender and more surprises in the works.
Warning
Mijangos Afro House Mix

(5:05)
2019-11-22
2019-10-18
Warning
Peppe's Alternative Warning Mix

(6:17)
2019-10-18
2019-08-02
2019-08-02
2019-07-19
2019-07-19

2019-07-10

2019-07-10

2019-05-17