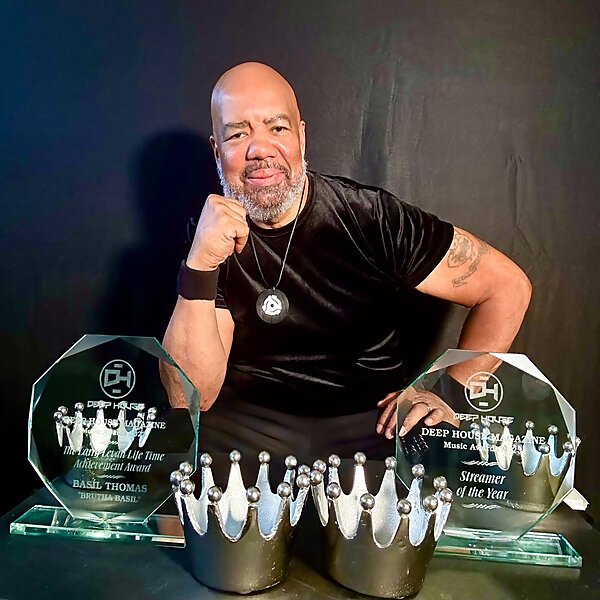 Artist
BRUTHA BASIL
Brutha Basil

DJ/Producer/Writer/Spoken Word Artist
Brutha Basil has been in his career recognized by the names: DJ Basil,Basil Hardhaus, Basil Hardhouse, Basil. DJing near a half century, 46 years to be exact. A former staffer at the iconic Paradise Garage and resident at NYC mainstream clubs Nells & The Choice with his mentor Larry Levan.

And in 1989 Basil added Producer Remixer Artist to his resume releasing his first works adding the moniker to his born given name of Basil supplementing it with HardHaus. Creating his two classic works HardHaus 1 & 2 (including City Streets and Black Man)on Nu Groove label. Then a few years later in 1995 doing a series of classics on Kingstreet Sounds/Nite Grooves labels. That included "All True African" "Time To Be Free" "Getaway" and appearances on the labels breakthrough Afro Abstract Lounge I & II compilations. That featured some of house music icons and usher in the developing Afro House genre into popularity in the 1990's.

Recognized by Traxsource consecutive years on their yearly "Artist for the Year of 2016" & "Artist for the Year of 2017" list. Brutha Basil now has a record with Grammy winner DJ Louie Vega entitled "Deep Belief" in 2019. But the Top Soulful House #2 record and #11 of 2017 "Freedom of Dance (It's the Beat)" definitely made a huge impact on the house scene. As well did a classic remake of "City Streets 25" on the Quantize Recordings label with DJ Spen. Which featured the at that time rising superstar DJ Mark Francis. Whom he indeed teamed up with again on the anthem "Stress" in February 2019 for the UK label Groove Odyssey.

In 2018 it should be mention Brutha Basil also released the popular "This Is What We Do Underground" on DJ Spen & Thommy Davis label that inspired another re-release on their Unquantize Recordings both were extremely successful charting for months during his recovering from debilitating injuries including a broken back in 3 places and surgically repaired leg. And this made his music more passionate and the empathy resonated.

Bringing him into January 2019 on the top of the charts with the #4 Top 100 Soulful House "Sisters" and as mention scorching hot releases with Top Producer DJ's Mark Francis on "Stress" and the great DJ Louie Vega's Soul Mission "Deep Belief" Agev Munsen remixes. That stayed in the Top 10 for 3 consecutive weeks and charted for 3 months until May 2019.

Brutha Basil has accomplished something rare a coveted "Triple Crown" on Traxsource having 3 Top 10 tracks in 3 different genres in the first 4 months of 2019. In the Soulful Top 100 "Sisters" in the Deep House Top 100 "Deep Belief" and in the Afro House Top 100, the hot #10 collaboration with the talented Coflo on Ocha Records "Time Stays Tickin'" truly an incredible and unique accomplishment in only 4 short months of 2019. And in addition another Top 100 Soulful Top 20 with "Stress" making in 4 Top 20's in only 4 months in 2019.

Coming at collaborations with Hatha Music new hot sensation DJ, Producer Aaron O'Brien and the highly anticipated collaboration with singer Scotty P and the Moroccan Sensational DJ, Producer FNX Omar. And something with DJ, Producer Thommy Davis and Greg Lewis projects in the work and a jewel with Stacy Kidd.

Brutha Basil will also be finally releasing his own solo album project, be sure to anticipate something concept wise that's very unique in 2019. In addition Brutha Basil can be heard weekly on his housefm.net 2 hour show "MY HAUS BRUTHA BASIL".

2019-05-17

2019-04-26

2019-03-29

2019-03-29

2019-03-29

2019-03-29

2019-03-29

2019-02-01