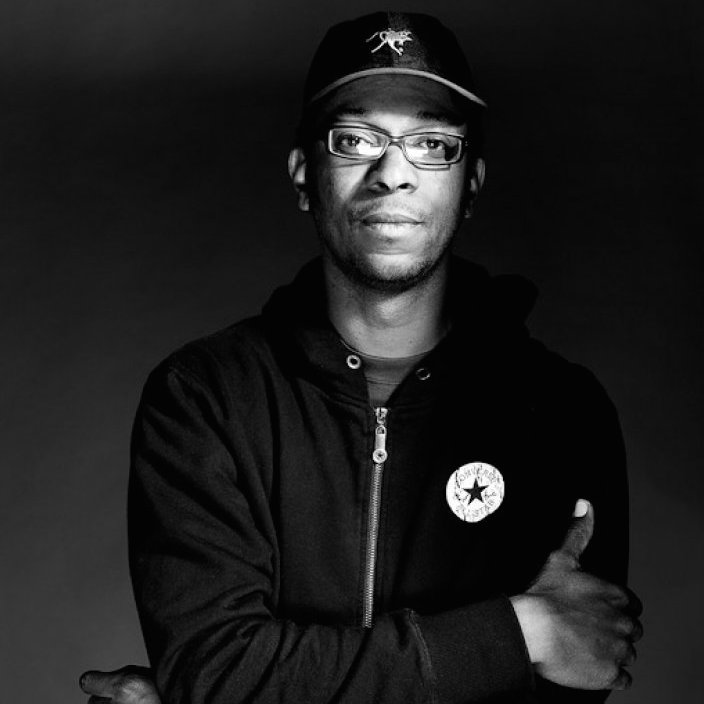 Artist
TEVO HOWARD

I started to DJ at roughly thirteen or fourteen years old, putting us back to about 1987. After a knee injury in a skateboard accident (I wiped out) in 1987, I found myself sitting at home, bored, and with little interests other than skateboarding and music. With skateboarding out of the picture, I could only gather to mess around with the turntables that sat in the room my brothers and I all shared. I remember thinking that being a DJ was a hobby that wasn't either illegal, or dangerous, and that it would be fun to DJ my own music as opposed to my brother's music. I walked down to Gramaphone Records, which was about 10 blocks away, and bought one record. I had no idea what was about to happen.

Needless to say, it became an addiction. At 14 I had the goal of one crate. My brother had already collected ten crates, and I was determined. I found myself at Gramaphone and Wax Trax picking up current day gems with my lunch money. It became one record a day. I am grateful to have Grown up in the Chicago record scene, because it provided a medium to apply my curious mind as a young musician.

Musicianship has always been something I've loved, or that is, I've been truly in love with instrumentation since the violin at age 7. Instrumentation, in fact, has never left my life. Today, my instrument is the bass guitar, because it is the instrument that I am most skilled at playing.

Although, I studied a total of ten years in college, only three and a half of those years were in music. Just out of high school in 1992, I studied at Columbia College in Chicago with the intention of getting a Bachelors in music, bass guitar studies. I usually don't consider the year and a half that I studied at Columbia for two main reasons: first, I was just out of high school and, in my opinion, very uneducated about, even, the mere etiquette of college life (at the time Chicago educational facilities had been considered the worst circuit in the United States); and second, looking back I did not believe in Columbia's teaching philosophies.

I transfered to the City Colleges of Chicago in 1994. It was then that I met two good teachers that taught based on two concepts: First, if you jump in, you'll probably learn to swim; and second, if you try hard, you'll probably swim well. Michael Holian, the dean of music at the time, informed me after my first couple of classes that I would be playing contra-bass (Upright Bass) in the college orchestra. Those were my favorite days as a student.

I took a break from all music application from 1997 through 2004. Circa 2004 and 2005, I entered Law School, and as well began to DJ on the turntables that I had never sold (They were then almost 20 years old). As I studied an array of subjects and pursued several degees before my full return to music (this includes a B.A. in International Studies at DePaul University), I found myself one day in 2006, headed to class to get the rest of my M.A. in Writing at DePaul, and yet, unable to get out of my car. I remember reaching for the latch several times, but ultimately deeming that I did not believe in the teaching philosophy of Depaul's M.A. in Writing program. So, I started the car again, and went home. It was that day that I began to build my studio, Beautiful Granville Studios."

Deep inside, I know well that I am only at the beginning of my career.

Without Me
Ron Trent's Music and Power Mix [Mixed]

(6:10)
2021-08-06

2021-08-06

2021-07-30

2021-06-04

2021-06-04

2020-09-04

2020-07-03

2020-07-03
Without Me
Ron Trent's Music And Power Reprise

(7:07)
2020-05-01

2020-03-27