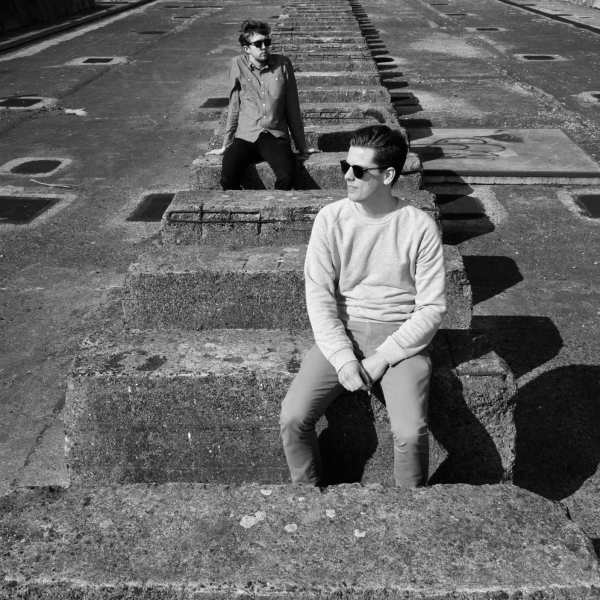 Artist
GREY AREA
We are very happy to present our new artist project, inspired by the grey areas in our lives, surroundings and music. However our lives before the start of our aspiring musical career have been a bit of a blur. We have tried to explain how our musical personalities have evolved but it has quite frankly been very confusing for us as well, we're both not quite sure how it all happened. But let's face it, asking the people who helped/inspired and influenced us will be your best bet on finding out the truth behind all of this.

It all started when Max was visiting a local barmitswa to gain inspiration for his Hebrew inspired instrumental Shofar album called "Hope You're Old Enough to Blow My Horn or "Have You Ever Tasted a Horn's End?". Max was abducted by a middle-aged Jewish vegetarian hipster who dragged him to the now oh so fashionable area of Williamsburg Brooklyn in New York City, where she allegedly held him captive in a former nursery to produce her offspring.

During that time Jay was working as a water slide tester for a local amusement park, which gave him the luminous idea to start a sanctuary for the so called "theme-park generation". A generation of kids who are unfamiliar with the responsibilities involved when participating in modern day society.

Unfortunately for Jay his subjects turned out to be more disciplined than he had initially anticipated which caused Jay himself to become a bit of a mischief. He quit his job and locked himself in London's infamous 'Fabric' nightclub to see what all this fuss was about We're not quite sure what happened there and whether this was part of the reason why the famous nightclub had a bit of financial setback in 2010. Oh well, let's continue.

When Max finally managed to escape the hands of his female assailant, he jumped on a plane back to Europe. Rumors suggest he was invited on the private jet of a couple of legendary DJs in return for playing them a marathon 'Sky Hi' DJ set of 6 hours. He convinced them to fly to London's Heathrow airport before they continued on to Ibiza (or was it Miami?) Anyway, this is where he found his mate Jay lying on one of the couches humming an amazing melody he probably picked up during his inspiring but most of all tiring clubbing days/weeks/months/years (who knows???).

The rest is history, in terms of tracing back those elements which gave the duo their success, it comes down to rather a catchy formula which they took from an educational YouTube-video of a certain producer who looked a lot like the resurrection of Freddy Mercury .They decided to experiment with this idea. After blending some drum-loops and bass-tunes with just the right amount of reverb and delay, the duo reached their desirable result and felt more than comfortable presenting their ingenious sculpted masterpieces to the public. Their epiphany seemed like an act of G.O.D.

Don't we all love the Good Old Days.
2018-07-07
2018-01-20
2017-12-08
2017-04-28
2017-03-24
2016-12-23
2016-07-25
2016-06-10
2016-06-03
2016-03-11