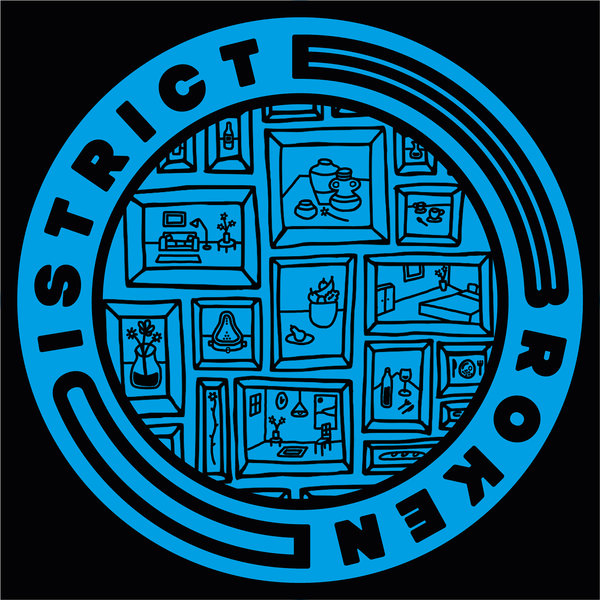 Melbourne-based artist Interface Palm presents "Curated Space" on Broken District, his first mini-LP, with 6 tracks skirting the line between broken beat, house, cosmic jazz and hip-hop, including collaboration with fellow Melbourne producer and bass player Horatio Luna.

Interface Palm is the project from Australian artist Jordan Hankins. Having established himself as a producer and DJ in Brisbane, he journeyed south seeking a change of scene. A right move for him, as relocating to Melbourne led him signing an EP with local label +Romantics, quickly followed with another release on Beats Of No Nation.

"Curated Space" is Interface Palm's first physical release and his most accomplished work to-date, the mini LP format allowing him to showcase all the extent of his talent.

Jordan opens the release with 3 tracks mixed together and served as one continuous production. First track is "Check In", a cosmic, multi-layered jazz-infused piece, serving as an introduction for the whole release, but also paving the way to the first single of the record: "Readymade".

More than a track, this is a true journey breaking barriers between styles, mixing elements of disco, G-funk, jazz and broken beat. Kicking-off slowly with a moody piano, Jordan then brings-in a catchy bassline, blending it with uplifting keys and strong broken beat elements, turning it into a one-of-a-kind masterpiece!

We started with a jazz, beat less production that evolved into a funk-infused broken beat track. The pace now continues to accelerate while "Readymade" slowly fades out and morphs into "Empty Ceramic", a strong four-to-the-floor deep-house cut. This production from Interface Palm is really smart, as he delivers a delicate house tune led by a strong bassline while at the same time carefully retaining a similar treatment of sounds and arrangements on the 3 first tracks. It provides a really strong feeling of unity and production quality.

Side B kicks off with "Street Couch", a modern broken-beat track featuring bass player Horatio Luna, an artist affiliated with the 30/70 collective and also a key player from Melbourne's jazz scene. Horatio does what he knows best and takes the lead on "Street Couch", in a jam-style, playing along the rhythmic pattern changes throughout the track: broken beat, downtempo, back to broken beat… finishing on a solid 4/4 beat explosion.

Up next is "Shoplifted Sculpture", an incredibly smart, yet bizarre broken-beat production with a Lo-Fi treatment in the vein of Interface Palm's previous works. The track has a nice, playful atmosphere with its candid synth melodies, combined with strings that spin the whole tune into another dimension. It's an unusual musical object that fit perfectly this mini LP format.

Closing the release, "Tapestry" delves into a different direction. Jordan here offers a perfect conclusion to the LP with an easy-going hip hop track. He plays a nostalgic, sun-drenched, cosmic melody with a nice Lo-Fi touch over simple old-school hip hop drums. It just feels right and will hit the spot for the rap heads.

What a journey! Thanks to this mini-LP format, Interface Palm gets to showcase more of his talent. He explores a wide range of influences and offers an overview of his wide musical palette, from broken beat, to cosmic jazz, hip-hop and house music. A true milestone for Interface Palm, this "Curated Space" mini-LP is the perfect example of artists willing to set new standards by blurring the lines of musical styles.

Welcome to the Broken District!