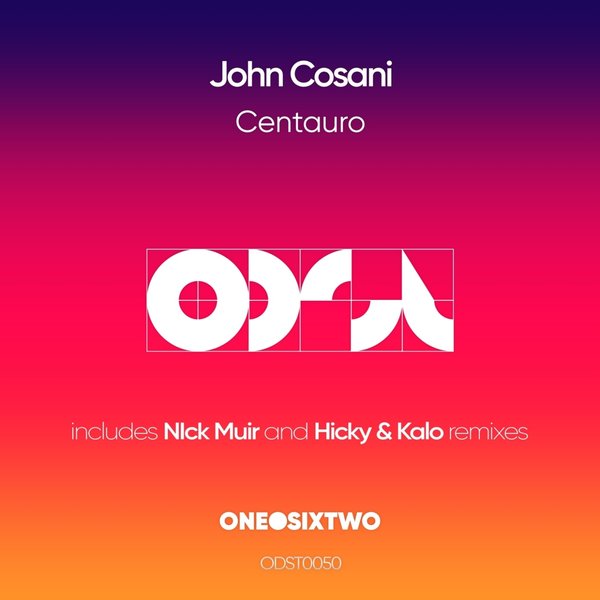 As onedotsixtwo reaches the milestone of their 50th release they have enlisted the talents of John Cosani who has created three hugely powerful original tracks, all featuring his signature deep, groove-laden production style.

With recent releases on Sudbeat, Clinique and Or Two Strangers plus many more and over one hundred and fifty release credits, John is one of the progressive scenes biggest stalwarts.

To further mark this landmark release, the legendary Nick Muir has taken the title track, Centauro, and put his unique stamp on it and Montreal's Hicky & Kalo have supplied a stunning peak time version of Bootes.

The EP opens with Centauro, a tough slice of razor sharp prog with all the hallmarks of a late night groover, full of twists and turns, it takes you deep into the rabbit hole.
Bootes follows with a lighter, more playful, mood. A shimmering arpeggiated top line synth skips over a bubbling bass and rounded kicks pierced by sharp claps and shakers . Next up, the third and final original, Saints, is a beautiful rolling piece, full of positive energy and euphoric melodies. Driven by a deep growling bass, it bounces effortlessly back and forth while mesmerising keys float over a tight percussive rhythm.

First up on remix duties is a man who needs little introduction. One half of the legendary Bedrock, alongside John Digweed, and a hugely accomplished solo producer, Nick Muir has taken the title track, Centauro, and injected it with a solid dose of peak time energy. Just wait for THAT break.

Hicky & Kalo, the pair behind the excellent Plaisirs Sonares imprint, have taken Bootes and morphed it into a building and cascading pool of energy and euphoria. With hugely popular recent releases on Replug, Sudbeat, their own Plaisirs Sonares and many others it is easy to see why they have been tipped for stardom.

onedotsixtwo would like to take this opportunity to thank all the artists that have helped to build the label over the past five years and fifty releases and to everyone who has supported by buying, streaming and playing our music.