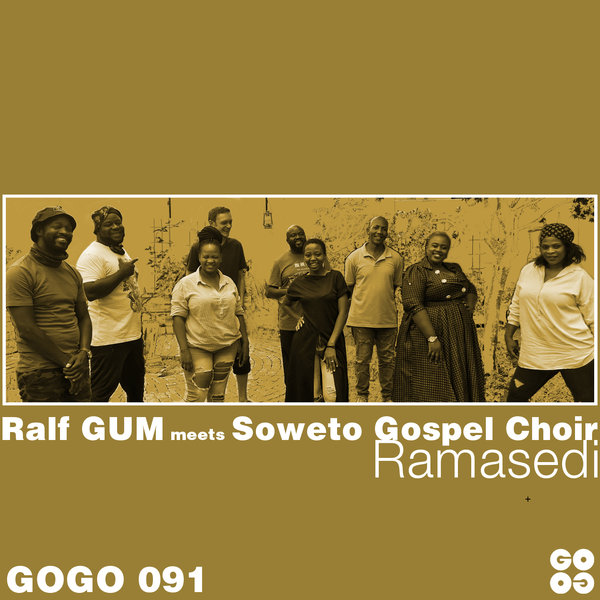 GOGO Music is very proud to present 'Ramasedi' a single collaboration by Ralf GUM with three time Grammy awards winners Soweto Gospel Choir performing on their first ever House Music release, an inspired African Gospel song backed with Ralf's unmistakable groove and production.

Ralf GUM has been at the forefront of the House Music scene since 3 decades and runs his label GOGO Music since 2 decades, in which he was able to present some of the most memorable House Music releases. Especially his 4 studio albums feel like historical landmarks in the scene. Ever since he started out Ralf has been looking to produce soulful goodness and at the same time enhance the genre, which earned him the reputation of a global tastemaker and Master of House. Thanks to his exceptional feel for harmony, soul and groove he has been in demand across the globe, whether as a DJ, producer or remixer for many years. For 2021 Ralf promised to bring us various single releases, of which this first one is his first collaboration with the outstanding Soweto Gospel Choir.

Soweto Gospel Choir has since its formation in 2002 arguably received more accolades than any other choir in the world. They recorded and performed with some of the world's greatest artists including U2, Queen, Peter Gabriel, Aretha Franklin, Stevie Wonder, Celine Dion, John Legend, Jennifer Hudson, Johnny Clegg, and Wizkid. They won three Grammy Awards in its own right and were featured in two Grammy Awards with other artists, an Emmy Award for its collaboration with Bono and U2 as well as an Academy Award nomination for its recording with Peter Gabriel on the Disney Pixar film Wall E. Added to this are several African Awards including four South African Music Awards and an inaugural Trumpet Africa Gospel Music Award. The Choir has travelled throughout the world over the past 19 years, with concerts at Carnegie Hall, London Festival Hall and the Sydney Opera House, to name a few. They performed with Eddie Vedder (Pearl Jam) and Beyonce at the Global Citizen Mandela 100 concert in Johannesburg and celebrated with world leaders including Nelson Mandela, Archbishop Desmond Tutu, the British Royal family, President Obama, President Clinton and Oprah. President Cyril Ramaphosa calls the choir 'South Africa's international treasure' and now you can hear them for the first time on a House Music track, written by Choir Manager Mulalo Mulovhedzi together with arranger Diniloxolo Ndlakuse and Vincent Jiyane.

GOGO Music will celebrate its 20th birthday later this year and is absolutely excited to kick-start our anniversary year with a bang, as we present 'Ramasedi' by Ralf GUM meets Soweto Gospel Choir.


Tracklist:

1 - Ralf GUM Radio Edit 3.24 min - ISRC: DEY162009103
2 - Ralf GUM Main Mix 6.05 min - ISRC: DEY162009101
3 - Ralf GUM Main Instrumental 6.05 min - ISRC: DEY162009302
4 - Ralf GUM Reprise 5.18 min - ISRC: DEY162009104

Written by Mulalo Mulovhedzi, Diniloxolo Ndlakuse, Vincent Jiyane, Michael Ehnes, Ralf Benkert.

Produced by Ralf GUM and Michael "Nivalito" Ehnes.

Lead vocals by Phello Jiyane.
Background vocals by Ipeleng Moshe (Soprano), Phello Jiyane (Soprano), Mary Mulovhedzi (Alto), Phumla Nkhumeleni (Alto), Vincent Jiyane (Tenor), Diniloxolo Ndlakuse (Tenor), Siyabolela Mkefa (Bass), Mulalo Mulovhedzi (Bass).

Drum programming, Congas, Shaker, Woodblocks, Moog Bass, Synthesizer: Ralf GUM.
Fender Rhodes, Piano, Lead, Organ, Synthesizer. Horn and Guitar arrangement: Michael "Nivalito" Ehnes.

Mixed by Ralf GUM.

Mastered by Masterlab.de.
Published by GU Music Publishing, Copyright Control.
P&C GOGO Music 2021.