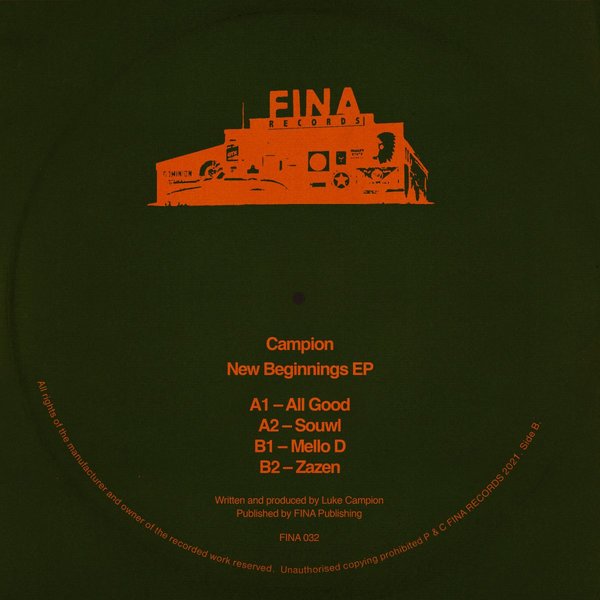 Fast rising artist Campion is next on on FINA with his New Beginnings EP. The UK artist brings his A-game to four fresh tracks of quirky left-field house.

Luke Campion is London based and one half of Mr Sunshine as well as being the co-owner of Curve Records. Well schooled in the rich history of the UK's ever evolving underground scene, he brings elements of bass, dub and garage to his house grooves and is also known for dropping his own cheeky edits of hip hop classics. He's released on a number of labels over the years but in 2021 is all set to make his biggest moves yet.

Opener 'All Good' brings a chunky swagger with skewed synth stabs and organic drums and hits overlaid by a freaky vocal sample. It's loose body music of the highest order. Things get more stripped back on the tough drums and steel plated sounds of 'Souwl'. The percolating grooves are fleshed out with dub chords and sci-fi motifs hint at the future. As the title suggests, 'Mello D' gets more warm, with balmy pads and more excellently swung drums bringing the house funk. Closer 'Zazen' is a gorgeously rough edged but tender house roller with romantic trumpet lead, withering pads and a soulful female vocal drifting by up top.

These are four hugely characterful house tracks that cover a range of different moods and atmospheres.