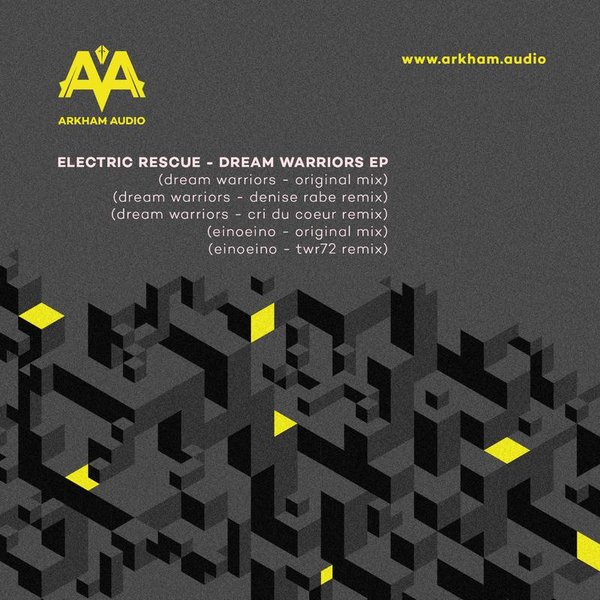 Arkham Audio presents a delicious techno EP by Cri Du Coeur featuring yet another solid lineup of remixers. 'Electric Rescue - Dream Warriors' follows on from Cri Du Coeur's inaugural EPs bearing more of the intoxicating rhythms that we have grown accustomed to and equally as indulging reworks by Denise Rabe, TWR72, and Cri Du Coeur himself. Jerome D., the face behind the budding Cri Du Coeur alias and prized Arkham Audio label, firmly establishes with this release that his hypnotising yet adrenalizing sound is a force to be reckoned with.


The EP begins with the original mix of 'Dream Warriors', which leads with an infectious beat and hazy serpentine melody that thrusts your mind into a powerful yet entrancing oblivion. Heavy percussives and lively daunting melodies set the tone for rest of the record. Cri Du Coeur's own rework of 'Dream Warriors' introduces itself with a pommelling baseline and leads into layers of stimulating hi-hats and transcendental melodies that create the perfect inebriating brew. The Denise Rabe remix of 'Dream Warriors' spices things up with a mind-numbing visceral baseline and spooky industrial sounds that echo throughout the atmosphere.


Next up is 'Einoeino' which has a playful beat that contrasts with a dark and fuzzy looping melody to create the ultimate heart-racing and thrilling experience for the listener, leaving you to imagine being chased around a haunted circus. The remix of 'Einoeino' by TWR72 delivers the producer's signature sound that encompasses pulsing rhythms, relentless muffled baselines, and a slightly off-beat groove that concocts the perfect smoky dancefloor track.


Bringing together another well-suited collection of artists, Cri Du Coeur showcases his prowess yet again for his industrial techno-wizardry and ability to put together enthralling and boundless soundscapes on his newly-founded yet tenacious Arkham Audio label.