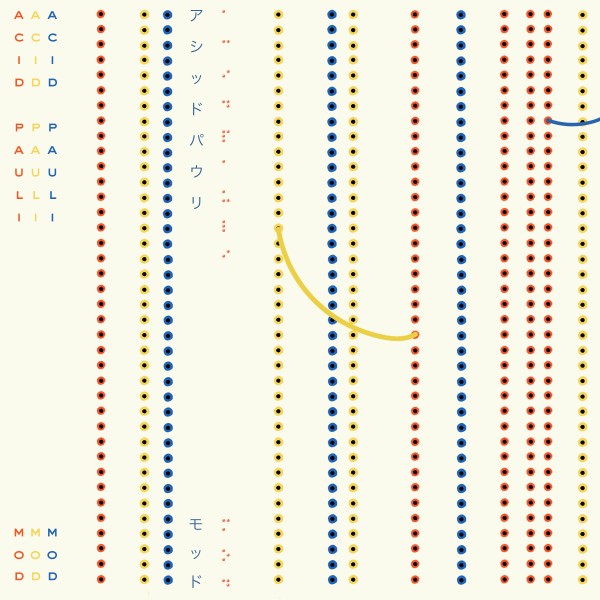 "Basically my albums have developed into my personal field of experimentation" says Martin Gretschmann, aka Acid Pauli. Known primarily for his psychedelic, leftfield club sounds that weave between slo-mo beats and deep burners, his EPs, remixes and collaborations have generally been more focused on the dancefloor. With his latest album, MOD (his third full-length released on his own Ouie label), Gretschmann goes in a tangential direction, drawing inspiration from modular synthesis and the scene that has flourished around it over the last years. The result is an album produced almost entirely with modular systems, inspired by the possibilities and restrictions of carefully shepherding machines that sing to themselves.

"I know a lot of people who somehow found themselves and electronic music in a boring dead-end alley, and who have now found completely new worlds through modules", he explains. Experimental as MOD may be, it certainly isn't 'difficult' or inaccessible - or as someone put it, the nine tracks here are "soft, elegant, fluent, dreamy - the tracks achieve the effect of space-time morphing - magical states".

The album is best heard as one continuous piece, allowing it to unfold its delights gently. Most of the tracks were recorded live in one take - often with Gretschmann recording up to 10 different versions before choosing the final piece.

Propagating Flip Flops starts things off - its glitchy textures and sync-shifting set the scene for the album - the sounds evolving and developing before resolving into a warm, ethereal tone. Intellijel Bell is made up of deep loops of rhythmic sounds, while metallic sounds and a submerged jazzy undertone hint at the classic Acid Pauli sense of fun. Acid On Yusef uses looped up rhythmic pulses and bass tones, joined by modulated beeps and blips. A touch of that iconic liquid acid sound pulls it together and gives the track its name. Sublime Frequencies Of Cairo is another beatless, floating collection of loops that shift and morph - seemingly suspended in space, before an ambient orchestral element resolves the track.


As the title suggests, Du Brecht, Ich Dub revolves around a bass heavy sound, building up a rhythm of disparate elements that develop into a tense yet somehow weightless groove. Life Polarizer is further evidence that an Acid Pauli album will always somehow drift back towards the groove. The track works the effects pretty hard - sounds pinging between left and right and ebbing and flowing into the mix. Peace Waer Schoen also makes heavy use of delay to create a dubbed-out, wonky feel. The freedom of getting away from computer based production is referenced sardonically in Quantize Hell - its bleepy sounds find a rhythm and progression outside of the grid. Finally, No Kick, No Cry brings the journey to a close - it's the first and only kick drum of the album and adds a structure to the magical unpredictability of the looped sounds.

The album's artwork perfectly reflects these sounds within - created by musician and artist Billy Caso. Each track is also accompanied by a minimalist video, created with a device from this modular world - the "Vidiot". It's clear that in MOD, Gretschmann has produced a homage to the modular scene that might inspire as many people as it delights.