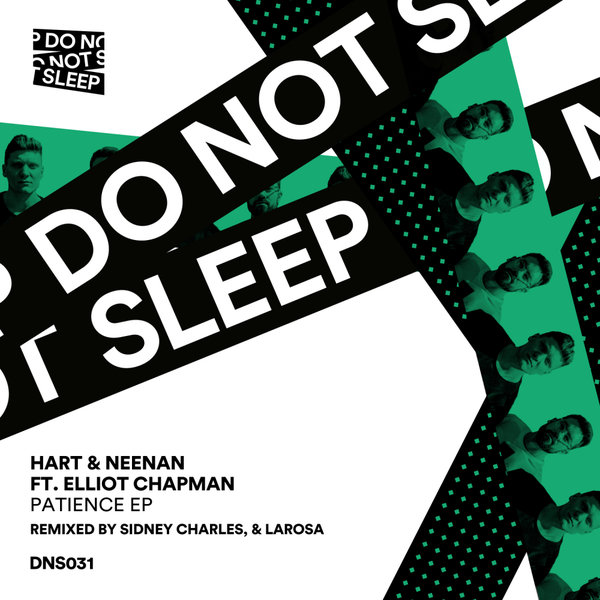 Following a string of heavy hitting releases from Mark Reeve, Luuk Van Dijk, Sidney Charles, and Collective States, Do Not Sleep keep the pressure on with another must have release from the rapidly rising UK duo, Hart & Neenan.

Since their debut release in 2018 on Max Chapman's Resonance, the duo have featured on highly regarded underground labels Whoyostro, Distance Music, and Twisted Fusion building their reputation as future stars of the underground.

Now in 2020 Hart & Neenan have stepped it up, with heavily supported releases on Sanity, Under No Illusion and META with the latter reaching N2 on Beatport and amassing 200k + plays on Spotify.

For their debut release on Do Not Sleep, the duo deliver a four track EP with two originals and two remixes, from label favourite Sidney Charles, and Inmotion Music's LaRosa.

The title track 'Patience' features the excellent vocals of Elliot Chapman with Hart & Neenan creatively working the vocal hook over the top of the rolling bass, adding shuffling hats, and organic chord stabs to create a powerful grooving and infectious track.

On the remix of 'Patience' is Berlin's Sidney Charles. Increasing the skip on the beats, he carefully adds intricate chord patterns in to a hypnotic deep groove weaving the vocal in tastefully.

The second original track is 'Sect', with warm and delicate filtering analogue chords, tripped out incidentals, and ever so slightly jackin' beats this is a high class B side.

The remix of 'Sect' comes from NYC's LaRosa, stepping up the intensity with an increased bpm, more shuffle in the hats, and giving his version a more prevalent bass-line groove providing the perfect alternative to an already excellent B side.