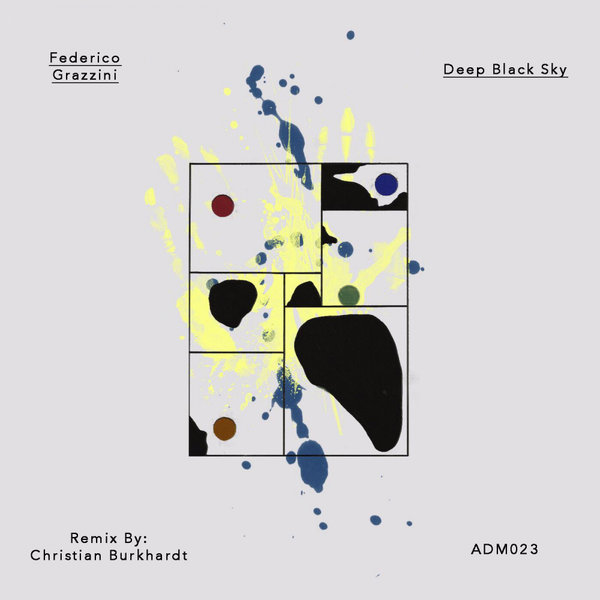 For the next EP on the label, AdMaiora Music welcomes back Italian veteran Federico Grazzini (SCI+TEC, VIVa Music, Tenax Recordings), here for the second time after his appearence on 'Maiora Vol. 4' VA compilation. Born near the blooming Florence in 1980, Federico is a real institution in the Italian dance scene as he's one of the most relevant figures of both TENAX parties and linked label. He has played in some of the craziest venue in the world including Womb Tokio, Watergate Berlin and Cocorico Riccione to name a few, not mentioning his long residency at The Zoo Project in Ibiza.
'Deep Black Sky' is the main track from the entitled EP and rotates around a peculiar male vocal sample and a classic 303 bassline, often tickled by Federico's wise hands. A simple but effective groove is very well supported by a tasty synth line into a sick result.
Up next, legendary German maestro Christian Burkhardt (Cocoon, Hottrax) remixes 'Deep Black Sky' into a minimal, menacing and late night bit of freaky after hours tech house. It's perfectly seductive and mysterious, studded with bleeps and flashing fxs and synths.
'Execute' goes deeper an intriguing tune that's designed to be played in the freakiest moments of the night. The rubbery kick meets more crazy ocals, 909 rims and rides plus some sinister strings, all glued together in elegance. All those elements match a percussive chord progression which opens and closes the track, bringing a sense of weirdness to the restless drum line.
Closing with 'G', here Federico serves up a groovy, dancefloor oriented version with moody synths and delicious pads with remarkable 80's electronic reminescences, crazy vocal shots from and 909 drums. The break is something of another planet, and brings istantly the listener with his hands in the air.