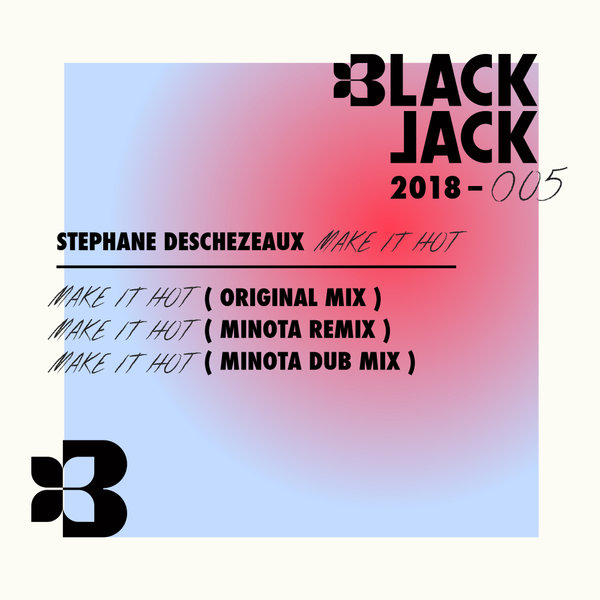 Stéphane Dechezeaux - Make It Hot (Black Jack Records 2018-05)
Four piano chords, an arpeggio, a disco bass and a soulful vocal, this is the magic formula that allowed house music to rule the dancefloors until today. Notably the very classy house music made in New York that has imposed its mark and continues to thrill the crowds through the hits of Duke Dumont or Disclosure. With Make It Hot, Stéphane Dechezeaux manipulates this heritage with talent and delivers a track reminiscent of the post-disco golden age that benefits from a beautiful electro-house remix (accompanied by a dub mix) signed Minota, aka Kiko, his longtime partner . After his first EPs on the French label Ozone in 1995, it was with him and under the alias Gino S. that Stéphane experienced one of the highlights of his career: Sinema, their duo project born in the early 2000s was, already, signed on Black Jack (and licensed at Sound of Barclay / Universal). Love Emulator their first album , a clear hommage to the italo-disco era has been distributed in thirteen countries. It served to purpose to credibilize a discreet trajectory but well anchored in the prolific French scene that continues today, what goes around comes around at Black Jack.

Stéphane Dechezeaux - Make It Hot (Black Jack Records 2018-05)
Quatre accords de piano, un arpeggio, une basse disco et une voix soulful, c'est la formule magique qui a permis à la house music des débuts de régner sur les dancefloors jusqu'à aujourd'hui. Notamment la très classy house music made in New York qui a imposé sa marque et continue à faire vibrer les foules à travers les hits de Duke Dumont ou Disclosure. Avec Make It Hot, Stéphane Dechezeaux manipule avec talent cet héritage pour un track réminiscent de l'âge d'or post-disco qui bénéficie d'un beau remix électro-house (assorti d'un dub mix) signé Minota, alias sous lequel se dissimule à peine Kiko, son partenaire de longue date.
Après ses premiers maxis sur le label français Ozone en 1995, c'est avec lui et sous l'alias Gino S. que Stéphane a connu un des highlights de son parcours : Sinema, leur duo né aux débuts des années 2000 était, déjà, signé sur Black Jack (et en licence chez Sound of Barclay/Universal). Love Emulator leur albumen forme de clin d'œil appuyé à l'italo-disco, a été distribué dans treize pays. De quoi crédibiliser une trajectoire discrète mais bien ancrée dans la prolifique scène française qui se prolonge aujourd'hui, juste retour des choses, chez Black Jack.