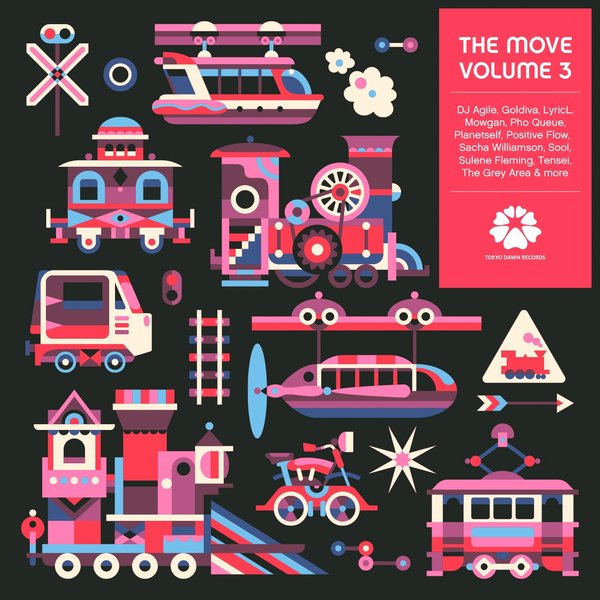 Tokyo Dawn Records have once again compiled a fluid and fabulously selected house compilation to free your mind, body and soul in the most seemless and sensational way with 'The Move Volume 3'.

The journey begins with Goldiva and Sulene Fleming of The Brand New Heavies, whose tantalizing tones and live hypnotic bass dip your hips as your familiarise yourself with "Strangers". You might be "Alone Again" within the groove but will definitely be moved as Sacha Williamson serenades you until you fall in love with the poignantly powerful production of DJ Agile.

"There You Stand" as LyricL reveals, synchronizes and mesmerises the unspoken experience of the performer, while Tensei's esoteric and exceptional production will transport and awaken your Soul with "Telemetry". Still I wonder "How I Begin" explaining the musicality and magnetism of Sool well. Until that unprecedented and unbelievable "SuperNova" encounter of true love takes you right there and then...

We return back to life's realness of enthralling emotion, guitar guidance and Naija Niceness. The Grey Area begins without apology, "Sorry", while Pugs Atomz celebrates highly irregular habits and Max Josef reveals his favourable flavours. This tasty new take on the Pho Queue hit is sure to "Sweet" you. So enjoy "Free Falling" with Planetself as you land perfectly into this deep and delicious SoulParlor summer sound.

Then allow yourself to be submerged deeper into an outstandingly beautiful Ocean Sky taking you "Around & Over". Your heart is racing as Capone and the Africa drum pulsates and gyrates Mowgan's Motherland-inspired music that subtlety stirs your Soul. Vegan head chef Inkswel from Planetself delivers edible pyramids to the dancefloor, before we transcend with Gábor Csordás' "Moonboy" in a piano pitch perfect and picturesque piece that is intergalactic and fantastic.

Perhaps one of the most important musical moves you'll ever make. Welcome to 'The Move Volume 3'.