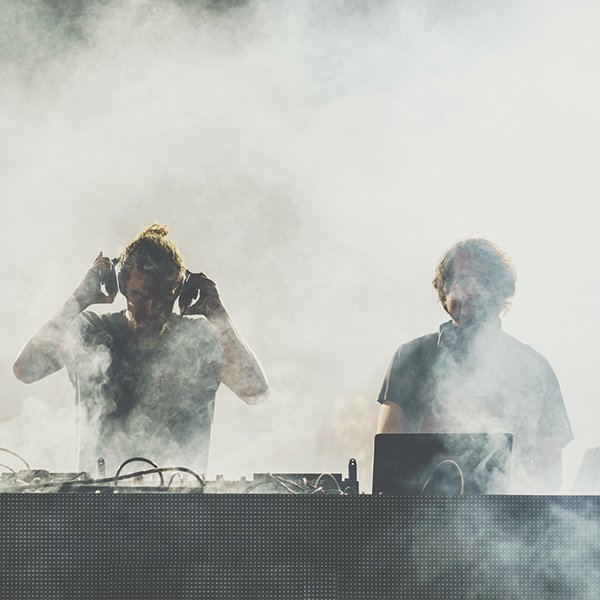 Artist
TUBE & BERGER
Arndt Roerig and Marko Vidovic – now known around the globe as Tube & Berger – first started their musical journey in 2000. Now 17 years later they are two of the most seasoned house producers and in-demand remixers around, with two acclaimed studio albums, releases on an array of prestigious labels, gigs at the world's finest venues and over 50 million YouTube plays to their name.



Never ones to follow in others footsteps, the duo inject spontaneity into their lives wherever they can; travelling to unusual destinations on a whim and deeply contemplating the end of the world are just two of the ways Tube & Berger gain creative inspiration.

From early experiments in the world of punk, the German duo's first breakthrough came with their 2004 hit 'Straight Ahead', which featured the vocals of Chrissie Hynde and shot straight to the top of the Billboard Dance Radio Chart. Since this early success their output has evolved significantly, incorporating real-life recordings, samples and an intricate, emotion-laden production style to create records that are organic and evocative, without losing focus on packing that dancefloor punch essential for the modern-day DJ.

Tube & Berger undoubtedly have become one of the most celebrated proponents for the Deep House Genre, crafting several of the scenes defining records in the last couple of years. More notably perhaps is 'Imprint of Pleasure', a heart-wrenchingly poignant dance floor anthem released on Suara Records that was named as another download site's 9th Top Selling Track of All Time, racked up a hefty 25 million views on YouTube and has provided the soundtrack for festivals and dance floors for over three years.

Along with friend and fellow DJ Juliet Sikora, the Duo runs the House Music label Kittball Records. As well as releasing their own music, Kittball has helped nurture the careers of Milan Euringer (alongside whom they wrote the huge underground hit 'Lovebreak'), Jerome Robbins and Kolombo to name but a few. 

On Kittball, Tube & Berger released their debut studio album 'Introlution' back in 2012. After 5 years of work, their second album 'WE ARE ALL STARS' was released in May 2017.

In terms of live performances – Tube & Berger never tire. Last year the guys proved they are Ibiza heavyweights with frequent shows at ANTS in Ushuaia and Booom! Ibiza. Festival-wise they had sets at Tomorrowland, Loveweek Festival, Eastport Festival among others, and played dates at ADE including the opening and All Gone Pete Tong. They also had an Europe tour and finished the year off on a 'Deeper Sessions' tour in the US and Canada.

2023-09-22

2023-08-25
2023-08-25

2023-07-28

2023-07-21

2023-07-07

2023-06-02