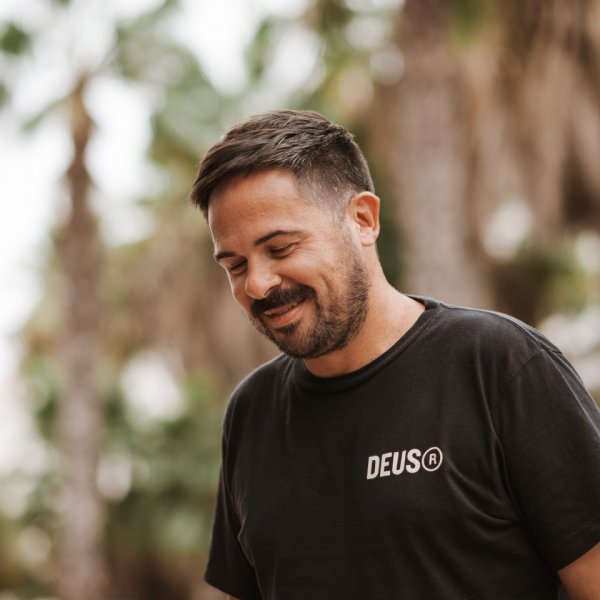 Artist
SEBAS RAMIS
After two decades of dedication to electronic music, Sebas Ramis is recognised as one of the Spanish references of deep house. Twenty years during which, apart from being a DJ and Producer, he has also stood out as an event promoter, the music director for one of the most important beach club franchises in the world, music curator for several beach clubs and boutique hotels in Mallorca, as well as managing his own artist agency that dedicated to the tourism sector.

His career began at the end of the 90s when Sebas started as a radio presenter, before he started mixing his first vinyl records together in summer 2001, or as he says, "practicing in my own club in the north of the island: Aloha Club."

From the mid 2000s he was a resident at one of the clubs that had best DJ lineup in Spain, Sala Fónica. He was also a promoter, first with Little Rouge and later in 2006 he created Sub_Urban, one of the most influential parties in Mallorca until the end of the noughties. Sub_Urban became one of underground music's movers and shakers on the Mediterranean Island.

Sebas has also founded several record labels, in 2005 he launched the now defunct Malo Records with Isaac Indart, a label on which artists such as Pig & Dan, Tato Isgud, Javi Bora and Wagon Cookin' among others released music.

In 2013 Sub_Urban evolved from being an event promoter into a record company, and today with its roots firmly based in Mallorca, it is one of the most important deep house and nu-disco labels in the world. Its artists include: Sebb Junior, Scott Diaz, JT Donaldson, Art of Tones, Crackazat, Robert Owens and many others. Young talents such as Guri and Eider and their band Round Shaped Triangles, as well as Sweden's Henrik Villard have also grown up on the label.

The label has released numerous No.1 records such as "205 Days" and "Somewhere Else" by British artist Scott Diaz, Sebb Junior Feat. Eider - "Come Back" (Art Of Tones remix), Sebb Junior - "Piece Of Me" (Jarred Gallo Remix), JT Donaldson's and Dirtytwo's remixes, and Sebas Ramis himself with Robert Owens among others. Sub_Urban has also released several EPs and the second album from French artist Sebb Junior, recognised as one of the bestselling artists in recent years.

Purobeach has been an important milestone in Sebas's career. In 2012 he signed up for the franchise as resident DJ at Purobeach Porto Montenegro.
After his first year as resident DJ, he then became the official DJ and musical director of the international franchise of these beach clubs, with whom he has travelled across Europe and the Middle East, both DJing and organising openings and pop-ups for the the brand.

In 2015 he created Puro Music, which is home to the famous Purobeach compilation series, of which Sebas has produced 13, as well as Purobeach Oasis Del Mar 10, Puro Desert Lounge 5, 10th Anniversary Purobeach Limited Edition with the participation of Kiko Navarro and Ben Sowton, owner of Seamless Recordings, the label that was in charge of the brand's releases until Puro Music was created.
The Global Adventure and Puro Urbano collections series were launched later on, with five releases of each.
Sebas was Music Director of Puro Group from 2012 to 2020, and he continues to be involved with the company through managing the Puro Music label and the musical selection of the company's centres.

As a "curator" he has developed several music brands for hotels and beach clubs in the Mallorcan tourism sector, where he also manages his own artist agency SUM Bookings. His projects for establishments such as the fantastic UM Beach House Portals, or for boutique hotels like Can Bordoy, El Llorenç, Can Alomar and Pure Salt Port Adriano among others stand out.

After more than 100 productions, between originals and remixes, Sebas Ramis presents in 2021 his first album "Life Goes On" with the participation of stellar cast of artists, singers and vocalists such as: Robert Owens, Sabrina Chyld, Life on Planets and Lee Wilson, among others.
2022-08-19

2022-04-29

Supernatural
Sebas Ramis feat. Benjy Instrumental Mix

(7:20)
2022-04-29

2022-04-29

2022-03-11

2021-12-31

Fallen
Cee ElAssaad Remix

(7:43)
2021-12-31

Control
Ron Basejam Disco Dub

(7:13)
2021-12-31

2021-12-31

2021-12-31