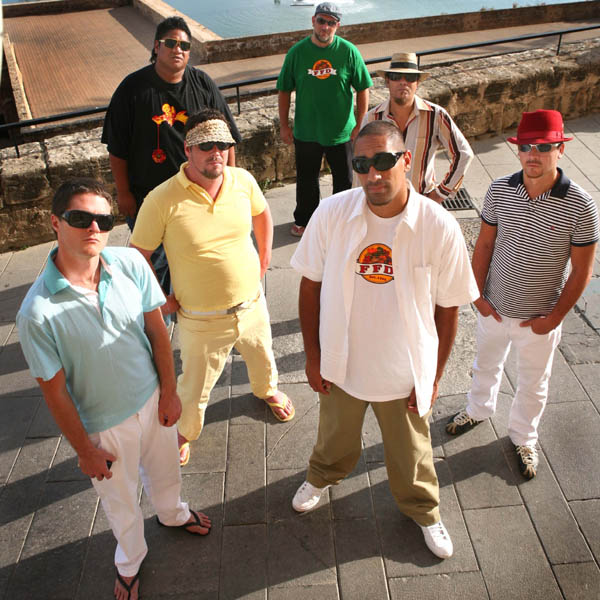 Artist
FAT FREDDY'S DROP
New Zealand soul powerhouse Fat Freddy's Drop proudly present their new studio album, Dr Boondigga & The Big BW, which features nine tracks of genre defying music, born from Freddy's live jams, fantastic voyages & many hours of beat reduction & sonic fine tuning in Lyall Bay, Wellington.

Dr Boondigga & The Big BW went straight to #1 of the New Zealand Music Album charts, having shipped Gold and hitting Platinum in the first four days. Two years in the making, the album is the successor to the band's 2005 debut album Based On A True Story, which also went straight to #1 in New Zealand, reached 8 x platinum and won a raft of awards including Gilles Peterson's Worldwide Album of The Year in the UK.
The success has taken the band around the world in 80 days an estimated 11.5 times since they first went to Europe in 2003, when Midnight Marauders (Joe Dukie & DJ Fitchie) was released as a 12" on the Best 7 imprint of Jazzanova's label Sonar Kollektiv. Fat Freddy's Drop have sold out gigs purely through word of mouth and played at the likes of The Roundhouse, London Le Zenith in Paris, Brixton Academy, Columbiahalle, Berlin, Sonar Festival in Barcelona, Glastonbury, WOMAD and the Detroit Music Festival.

On their travels the Freddy's have not only sampled pan-european music and golf-courses, done some sight-seeing and bought lingerie in Paris, they have cultivated a worldwide whanau (Maori word for family, extended family, friends). Invite a good dozen unknown Kiwi musicians you've never met, plus entourage, to stay at your 2 bedroom flat for an unlimited time, just because you like their 12", you're an official cuzzy, wherever you're from. Fold out-sofas, directions to obscure record stores and underground clubs, reliable taxi phone numbers, unlimited access to unbelievable vinyl collections, connections & contacts, and a huge variety of delicacies and appreciation for the Freddy's music from friends and fans worldwide and at home, have helped build up a network that makes it possible for the band to work and create following their own philosophy and style.


2019-11-15

2019-11-15

2019-11-15

2019-11-15

2019-11-15

2019-11-15

2019-10-10
Hope
3 Generation Walking Rmx [Mixed]

(7:00)
2019-02-14

2018-12-07
2015-10-23