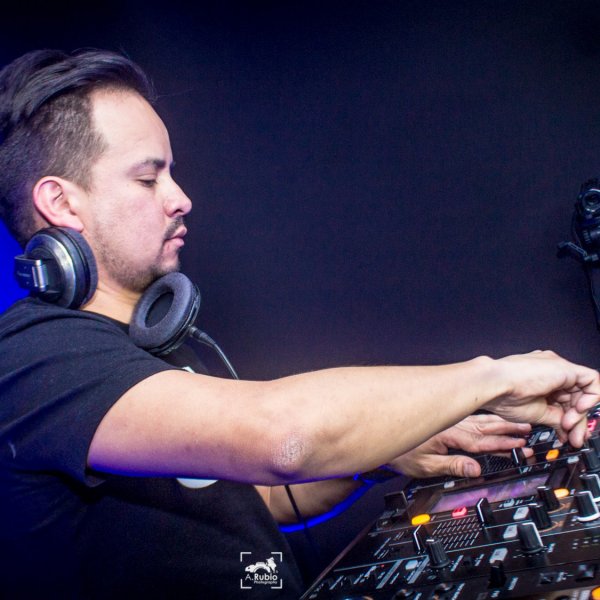 Artist
GIANNI RUOCCO
GIANNI FILIPPO VILLALOBOS RUOCCO CONOCIDO EN EL MEDIO COMO GIANNI RUOCCO, NACE EN 1980 EN BOGOTA COLOMBIA, EN ELAt,:jQ 1995 COMIENZAN SUS CONOCIMIEN-TOS EN MESAS DE MEZCLA TOCANDO EN LAS ACOSTUM-BRAOAS FIESTA DE GARAGE Y EVENTOS PRIVADOS. EN ESTE ANO SE INVOLUCRA CON EL GÊNERO DEL TRIBAL HOUSE Y EMPIEZA SU VIDA DE PRODUCCIÓN MUSICAL CON SU PRIMER TRACK LLAMAOO TRIBUMBA.

EN EL AflO 2000 EMPIEZAA TOCAR EN LA ZONA ROSA DE BOGOTA EN UN CLUB LLAMAOO INSOM-NIA EL CUAL LE ABRIO LAS PUERTAS A VARIOS CLUBES DE LA ZONA COMO GOTICA, BLESS, BAR C, ENTRE OTROS SIN OEJAR AUN LAOO LA PARTE DE PRODUCCIÓN.
AL PASAR DEL TIEMPO ES CONVOCADO PARA SER PARTE DEL CIERRE DEL FESTIVAL DE VERA NO EN BOGOTÁ EN EL 2002, SU DESEMPENO Y TÈCNICA ESTUVO ACOMPANADO EN ESTA OPORTUNI-DAD POR DOS GRANDES DE LA ESCENA ELECTRONICA CAPITALINA COMO DJ PLAS TIK Y DJ CHIKI DE INDUCANA HACIENDO SHOW PARA MAS DE 35MIL PERSONAS EN EL PARQUE SIMON BOLIVAR.
EN EL 2005 EXPANDE SUS PRESENTACIONES POR CIUDADES COMO BARRANQUILLA, VENEZUE-LA, CALi. MEDELLIN, SANTA MARTA ENTRE OTRAS, DIFUNDIENDO SU GÈNERO DEL TRIBAL, HOUSE Y TECHNO, SU POSICIONAMIENTO EN EL 2007 VUELVE A CAMBIAR DE GÈNERO DEBIDO A QUE EMPIEZA A FORM AR PARTE DE METROPOLIS CLUB EN EL NORTE DE LA CAPITAL CON SONI-DOS ENTRE EL ELECTRO Y EL HOUSE, GIANNI RUOCCO SE INVOLUCRA TANTO CON EL CLUB QUE DECIDE SEGUIR CON SU LINEA ELECTRO HOUSE Y AS! FORMAR PARTE DE LOS DJ'S RESIDENTES DEL MISMO CLUB. EN EL 2008 SU CARRERA COMO EMPRESARIO EMPIEZA A TOMAR RUMBO EN EL MEDIO ELEC-TRÓNICO CON SU SELLO DISCOGRAFICO URANOBEAT RECORDS COMPARTIENDO TARIMA CON ARTISTAS INTERNACIONALES COMO LO SON FERRY CORSTEN, MIKE HARRINGTON, CRISTIAN VARELA, SHARAM. RINO CERRONE, CHRISTIAN SMITH. THE H20 PROJECT, MONIKA KRUSE, MARC HOULE. TROY PIERCE, ALDO CADIZ, IVANO BELLINI, PATRICK M, ANGELALANIS. LAZARDI, DO SANTOS, D-FORMATION, DONNIE LOWE, LISSAT AND VOLTTAX ENTRE OTROS.
SUS PRODUCCIONES MUSICALES FORMAN PARTE DEL RECONOCIDO PORTAL another download site.COM Y LLEGA A LOS TOP DE DIFERENTES SELLOS CON LOS QUE EDITA ACTUALMENTE, TAMBIÈN APRUEBAN SU SELLO LLAMADO URANOBEAT RECORDS EL CUAL NO SOLO ES UN LABEL DE RE-NOMBRE SI NO TAMBIEN UN LABEL DISTRIBUTION RECORDING, ACTUALMENTE SUS PRODUC-CIONES SE POSICIONAN DE FORMAASCENDENTE CON ARTISTAS INTERNACIONALES PARA SU AUGE MASIVO CON GRAN RECONOCIMIENTO EN LAS PISTAS DE BAILE.
HOY EN DIA EL NOMBRE GIANNI RUOCCO MUNDIALMENTE ES SEGUIDO POR SUS PRODUC-CIONES ENTRE EL TECHNO. TECH HOUSE Y HOUSE MUSIC LOS CUALES HAN SIDO NOMBRADOS EN LOS CHARTS Y SET'S DE ARTISTAS INTERNACIONALES COMO: UMEK, DAVID HERRERO, PAT-RICK M. IVANO BELLINI, SVEN VATH, STEVE LAWLER, PAUL RITCH, ROGER SANCHEZ, ALDO CADIZ, STEFANO NOFERINI, STEFANO KOSA, ENTRE OTROS.
2021-01-14

2021-01-11

2021-01-11
2021-01-08
2021-01-08

2021-01-08