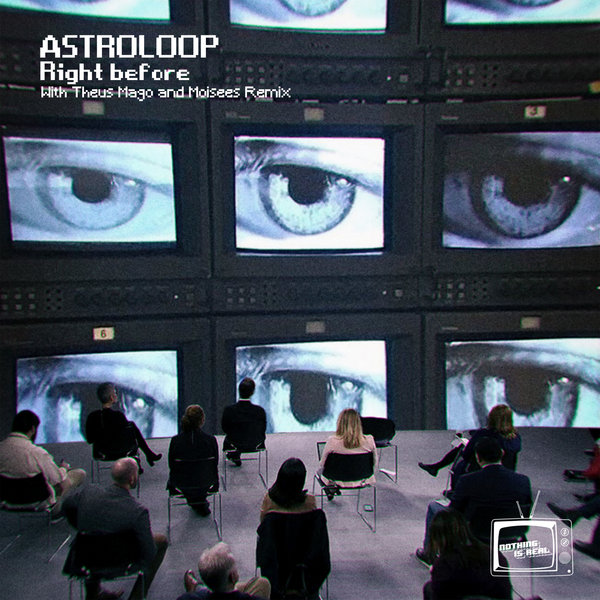 The first few months of the new year saw dance music deities Nothing Is Real expand their vision internationally with the eclectic compilation EP 'Made in Mexico'. Their latest releases see them refocus their vision on home territory, with a four-track bombshell from Italian producer Gabriele Lori, aka Astroloop. The 'Right Before EP' is a bold statement from a rising talent, following up the well-received collaborative EP 'Svegsy', which was released on the legendary Jimpster's Freerange Records. Featuring a potent lead single and an equally dynamic remix from Mexican producers Theus Mago & Moisees, this one places Astroloop firmly on the map and is sure to make his name known worldwide.
Astroloop's debut solo outing opens up with the title track 'Right Before', a moody and muscular take on deep house that gradually builds tension and suspense throughout its six-minute duration. The track is followed up soon after with a stellar remix from two gifted Mexican producers, Theus Mago & Moisees, who bring the distorted vocal parts to the foreground while decorating the track with additional percussion, effects and melodies. The result retains the driving momentum of the original while viewing Astroloop's productions through a beautifully twisted perspective.
The EP's third track 'Safer' demonstrates Astroloop's experimental spirit, as tricked-out vocal samples and uncanny MIDI instrumentation compete for the listener's attention. This is a truly original and mesmerizingly unique piece of electronic music, and proves that the producer has more than a few tricks up his sleeve. Finishing off the release is the mid-tempo groover 'Answers', which slowly builds a head-nodding rhythm from chunky snares, punchy kicks and skittering hi-hats before a resonant bass wobble, processed guitar samples and a monotonous vocal refrain bring us back to that new wave edge listeners associate with Nothing Is Real.