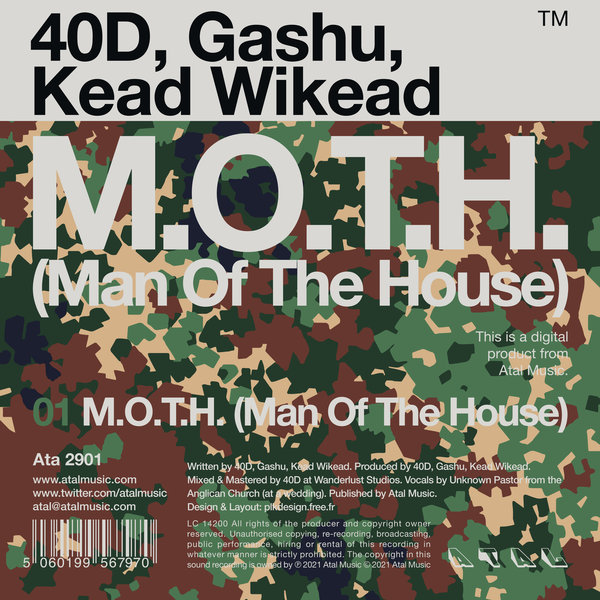 M.O.T.H. (Man Of The House)
Atal
ATA 2901 | 2021-01-29
40D, Gashu, Kead Wikead
M.O.T.H. (Man Of The House)
Ata 2901
01 M.O.T.H. (Man Of The House)
Written by 40D, Gashu, Kead Wikead. Produced by 40D, Gashu, Kead Wikead. Mixed & Mastered by 40D at Wanderlust Studios. Vocals by Unknown Pastor from the Anglican Church (at a wedding). Published by Atal Music.

Design & Layout: plkdesign@free.fr
www.atalmusic.com
www.twitter.com/atalmusic
atal@atalmusic.com

Ata 2901 LC 14200 All rights of the producer and copyright owner reserved. Unauthorized copying, re-recording, broadcasting, public performance, hiring or rental of this recording in whatever manner is strictly prohibited. The copyright in this sound recording is owned by (p) 2021 Atal Music (c) 2021 Atal Music

DJs supporting in no particular order: Pulsator, Aimo, Alain Vinet, Alfred Azzetto, Hanna Hais, Jask, Pierre Ravan, Rob Boskamp, Thierry Criscione, Loco Dice, Joseph Capriati, DJ Byden, DJ Hildegard, DJ Kik, DJ Small, Edground, Evan Landes, Joan Ribas, LadyK, Saint Evo, Sandro Bianchi, SlyDaWise, Steeve Justkott, Filippo Fedetto, John Velez, Leandro Pereira, Leon El Ray, Mirko Sardina, Lorenzo Al Dino, Shioji Mori, C-Major (SA), DJ Thes-Man, OU, Rochdee, Michael Fossati, DJ Gloss, Jus Mo, Myke Stukes, Patrick Lapeyronnie...